What happened to recommendations after Nimtoli?
Punish the guilty for the deaths in Chawakbazar fire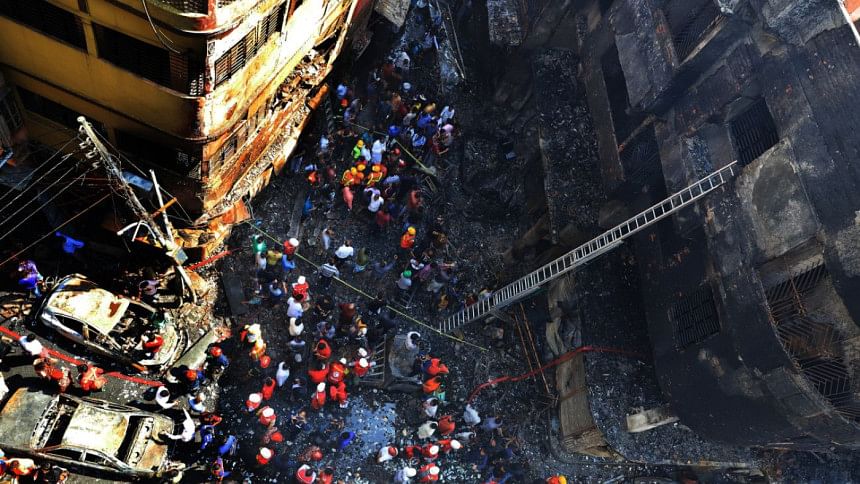 That ordinary people's life count for very little in the running of the affairs of the state has been proved once again by the recent tragedy. Such a disaster was waiting to happen, and we had in these very columns been pointing out that very possibility to the administration constantly, the latest being only a couple of days ago. It seems we had taken nothing out of the Nimtoli tragedy.
The only redeeming feature in the entire episode that took nearly a hundred lives is the tireless efforts of the first responders led by the Fire Service who, despite the severe odds that the layout of the area posed, worked tirelessly to bring the blaze under control. They were on the spot within five minutes of the fire breaking out. They, along with the local volunteers deserve our unreserved appreciation.
While accidents can happen despite all precautions, we feel that the deaths and destructions can be avoided if adequate safety measures are in place. And we believe that had corrective measures been taken by the relevant agencies and the 17-point recommendations of the enquiry committee of the Nimtoli fire been implemented, such a tragedy might not have been repeated. It is entirely a man made one and the responsibility for it is on those who were responsible for failing to put into effect the suggestions of the said committee. We want to know why the recommendations have not been acted upon, why couldn't the chemical warehouses be relocated in the last nine years?
Assurances and promises and monetary help are of little consolation to those that have lost their dear ones. Many of them were the sole breadwinner of the family. Such verbose promises were made in the past too, but not fulfilled. We are galled to see a sinister effort to downplay the presence of so many chemical warehouses in the area and delink it with the tragedy. It is not important whether the fire originated from anyone of these godowns, some of which are illegal and turnout spurious products. What is of significance is that these inflammable materials helped spread the inferno, from wherever that was initiated, and contributed to the severity of destructions.
Words would mean little if committee recommendations are not implemented. But first of all, everyone who contributed to the tragedy, either by their actions or inactions, must be held to account and made an example of.