Tackling Indian variant of Covid-19
Experts recommend an immediate nation-wide shutdown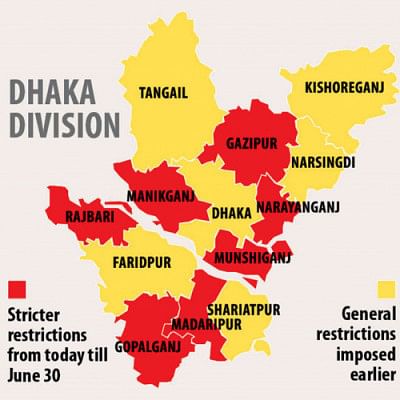 It is shocking to see how fast Covid-19 infections are rising in all divisions except Dhaka, although that can change anytime. The National Technical Advisory Committee on Covid-19 (NTAC) has recommended a complete shutdown for 14 days to save lives and ease the burden of overwhelmed hospitals.
On June 23, a total of 85 people died due to Covid-19 complications in 24 hours. This is the highest Covid-19 mortality rate in the last two months. At the same time, there have been 5,727 new infections and the positivity rate has shot up to 20.27 percent (highest in the last two and a half months), according to a DS report published on June 24.
If the border districts had been put under complete lockdown and cut off from the rest of the country, the government would have gotten some time to take preparation to tackle this new variant. But the district administrations did nothing despite receiving clear guidelines from the government. Although in April and May most of the casualties from Covid-19 were in the cities and towns, now the virus has reached the rural areas as well. On June 24, 68 out of the 81 Covid deaths recorded were outside Dhaka which gives a glimpse of the severity of the situation.
There are two success stories regarding tackling Covid-19. Both are related to lockdowns, one in Razabazar and another in Tolarbag of Mirpur. These two areas had imposed complete and strict lockdown and saw amazing results, including Covid-19 infection rates coming down to zero. The government has to take lessons from these stories and direct its local authorities across the country to do the same. As we've seen that strict lockdown curbs transmission rates, this must be imposed firmly along with ramping up testing, isolating patients who test positive and contact tracing.
It's a relief that the vaccination campaign has started once again, as the vaccine reduces the severity of the infection and the possibility of death. We hope that the government will ensure that the vaccination process goes smoothly without any hitches. Apart from all this, maintaining proper heath guidelines such as wearing masks and social distancing have to be enforced. Moreover, the government must make sure the district administrations follow the guidelines properly.
   Given the grim predictions by health experts of the devastating trail of the virus, the government must take immediate measures.