Editorial
Relief for Yaas survivors top priority now
Rising frequency of cyclones and tidal surges calls for long-term plans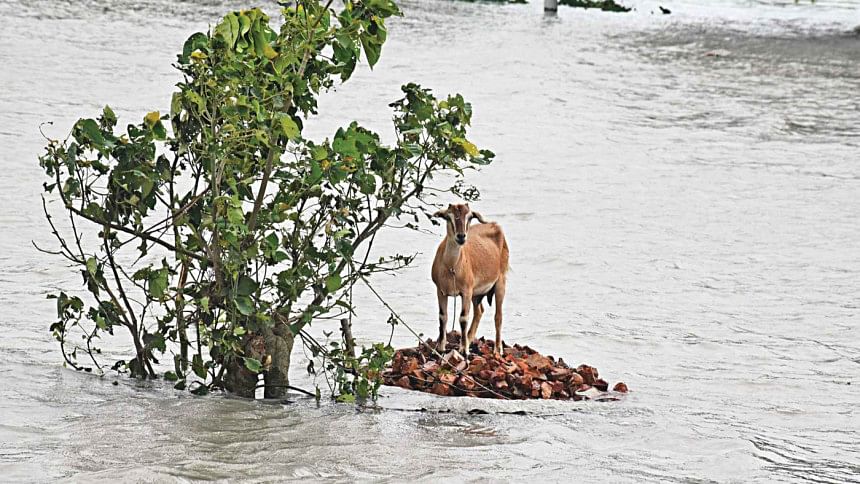 Bangladesh is no stranger to cyclones. The people of this land have had to live with such extreme weather events since as far back as modern history goes, with increasing frequency in recent years. Yet it is small comfort when life becomes a rollercoaster and you have to rebuild it, again and again, just like survivors are now set to do in the aftermath of Cyclone Yaas. The cyclone, coming a year after the super-cyclone Amphan, has left a trail of destruction in at least nine coastal districts, and the danger is not over yet, as swollen torrent continues to sweep through hundreds of villages. According to initial reports, numerous houses, farms, fisheries and even roads lie submerged after embankments holding back the rivers crumbled, or were partially damaged, in many places. Many bridges, culverts and tube-wells were also ruined.
It may take days before we get a fuller picture of the devastation and damages caused. According to one estimate, eight people died on Wednesday and three more on Thursday, as a result of the cyclone. The loss of lives, livelihoods and physical properties this time is expected to be lower compared to Amphan, but the government must urgently roll out aid and relief measures to help the survivors recover and rebuild. This is going to be a huge task, with the regular communication channels disrupted in many areas. We expect nothing less than a well-coordinated drive from the authorities so that no one affected by the cyclone falls through the cracks.
A continuing worry, however, is the tidal surges, with some rivers still flowing above danger levels at different points. The rising trend in higher tides in recent times has seen rivers swell even during non-cyclonic events. Experts fear this may have a long-term effect on the soil, water, environment and even public health in the region. Before Yaas, in the last four years, the Bay of Bengal alone had reportedly seen at least 12 cyclonic storms. According to the National Institute of Preventive and Social Medicine, whereas there was one big cyclone in every six years and four months previously, now a storm is hitting the country in every 1 year and 10 months. Even though the death toll from cyclones has significantly dropped in the last few decades, because of Bangladesh's increasing disaster response capacity, the fact that the incidence of cyclones and tidal surges is increasing calls for a longer-term plan.
   With climate change expected to further increase the frequency and intensity of such cyclones and higher tides, the government must focus on undertaking more pre-emptive action. There is a need for more funding and more grassroots involvement to help the communities living in the coastal belt, so they can better stand up to these disasters. Reducing poverty and boosting their access to social safety nets are also paramount. But right now, the priority, of course, is to make food and medical supplies available to the Yaas survivors and also help them rebuild their lives through financial and other forms of assistance.