Recognising the contributions of sanitation and waste workers
Their health and safety should be our priority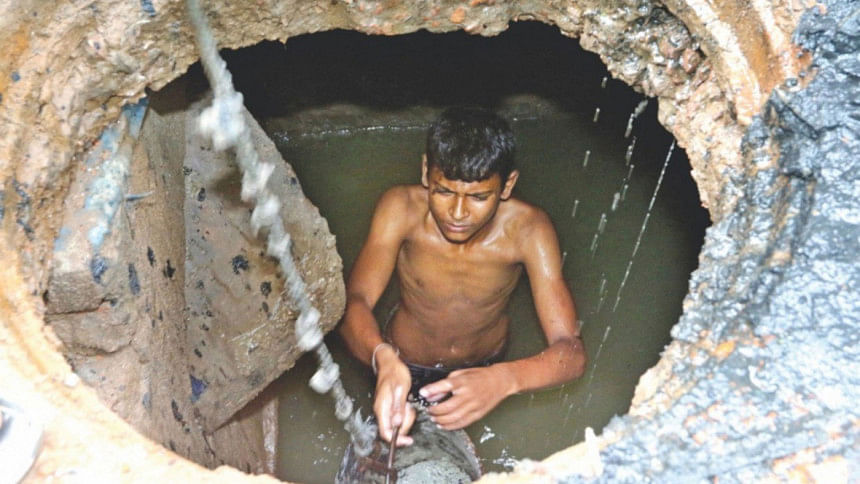 A discussion held by The Daily Star with health policy experts has brought to light the utter neglect and apathy of our society towards one of the most essential groups of people: the sanitation and waste workers. These hidden and unsung heroes who risk their health and lives every day to clean the sewerage drains and other waste on a regular basis have little to no access to healthcare, even though they are most prone to illness due to their work in the most unhygienic conditions. The discussion is part of a campaign tilted "The Untold Stories of Sanitation and Waste Worker", jointly organised by The Daily Star, WaterAid Bangladesh and the Embassy of Sweden. Experts have rightly pointed to the challenges in improving the health and healthcare condition of these workers.
According to experts, one of the major reasons why these workers are so neglected is the lack of recognition for their profession. They face social stigma, economic hardships and are also deprived of civic benefits. They are underpaid and cannot afford a decent lifestyle, especially quality healthcare. Due to a lack of affordable and comprehensive healthcare services for the country's urban  poor—an economic cluster to which the sanitation and waste workers belong—it has become difficult to ensure even the basic healthcare services for these unsung heroes. While the DGHS runs around 35 urban dispensaries in Dhaka to provide outdoor patient services, more should be set-up with comprehensive healthcare facilities to cater to the primary healthcare needs of the urban poor, including these workers.
The government must implement universal healthcare coverage for the urban poor so that they can afford the medical care needed. In a nation where, according to World Bank, a staggering 74 percent of healthcare expenses have to be borne out of pocket by the patients, poor sanitation workers are deterred from seeking medical care even when they are seriously ill.
If the government is sincere in its efforts to ensure their proper healthcare, it needs to drive health insurance schemes for them. The government can collaborate with the NGOs working to ensure the rights of sanitation and waste workers through community partnerships to promote the insurance facility. Collaboration can also be made with the Municipal Association of Bangladesh (MAB), which has access to the 300 municipalities and their workers, to make sure every sanitation and waste worker has access to individual or even group health insurance policy. It is high time the government and the society as a whole recognised their needs and ensured their wellbeing. Providing access to healthcare would be the first step.