Editorial
New banks to join saturated market
Restore financial governance first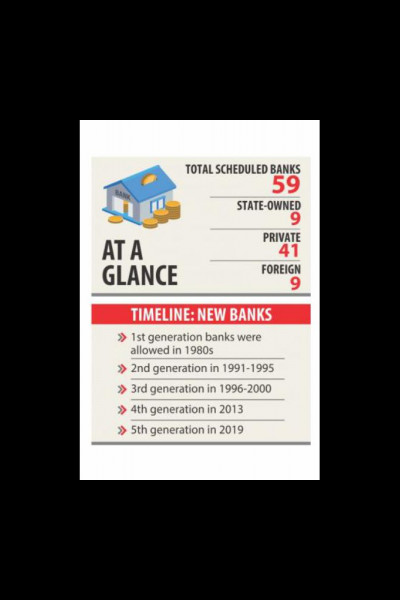 Bangladesh Bank (BB) has given approval for three new banks to be floated at a time when the banking sector is both saturated and stressed due to nonperforming loans (NPLs) reaching dangerous levels. Regrettably, public money has been pumped in to keep some of the newly set up banks afloat. Although the finance minister has stated that the new banks were approved because there is a need for them, banking experts believe that with 118 banks already operating in the country (including scheduled, state-owned, private and foreign-owned) and where NPLs had soared to Tk 99,370 crore, which was 11.45 percent of all loans disbursed last fiscal, we fail to see the wisdom in setting up more banks.
The finance ministry may believe the market has room for more banks, but banking experts and former bankers opine that given today's economic realities, we do not need new banks, and having new banks defies economic sense. The previous finance minister had, in fact, gone on record last November to state that there were too many banks considering the size of the economy and was unhappy that licences were being granted to new banks. The current finance minister tells us that his ministry will be carrying out an audit to find the reasons behind rising NPLs. Is there a timeline for this audit and may we know when it will commence and conclude? Why has it taken so long for the authorities to decide on doing an audit despite repeated banking scams that have rocked the foundations of the sector over the last many years?
The bottom line is that although BB has ample evidence of large-scale siphoning off of funds by some fourth-generation banks, it has gone ahead and approved a number of fifth-generation banks, knowing full well that given the lack of financial discipline in the banking sector, sanctions motivated by extraneous considerations will result in waste of more public money.