Editorial
Lockdown in the border districts
Bolting the door after the horse has bolted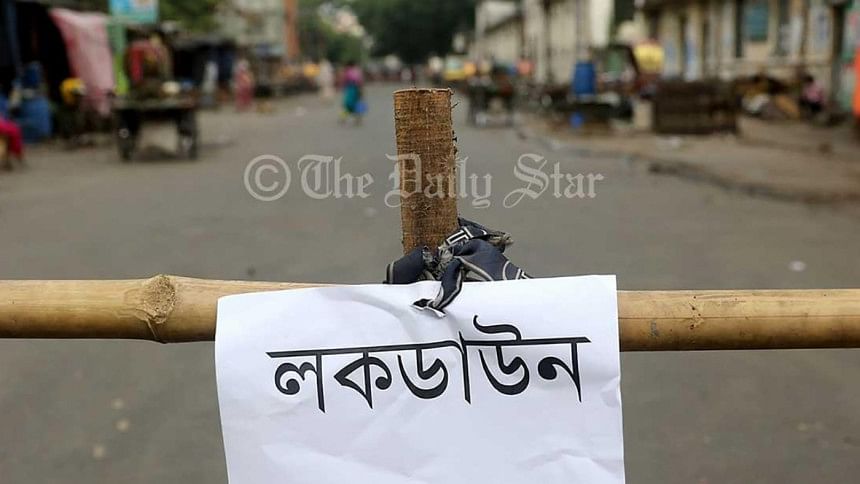 The spike in infection rates in the border districts, and the mortality rate as a consequence, are not entirely unexpected. In spite of the need to have a strict lockdown immediately from the end of May, as suggested by the Epidemiology and Public Health Committee of DGHS in the seven districts where the Delta variant (commonly known as the Indian variant) of coronavirus started spreading in the communities, the lockdown was delayed. We believe that the suggestion should have come sooner than that. But even after it was made, it was not, unfortunately, implemented on time.
In fact, since the beginning of this year, we have used these columns to warn of the dire consequences of a second wave of Covid-19, and later of the risks posed by the Delta variant and its likely impact on the country, particularly in the border districts. We had also suggested that the government should not stand on protocols and bureaucratic paperwork and procedures, but implement lockdowns in the border districts straightaway through executive order, and that the decision to effect lockdown should not be left entirely to the district administrations alone.
The cabinet decision to enforce a lockdown, taken on May 31, was deferred because the seven border districts also happen to be the major mango growing districts and it is harvesting season. Again, economic considerations have trumped health security, and this exposes the administration's ambivalence on the matter. We wonder why a cabinet decision was not implemented immediately, and whose decision it was to defer implementation of the lockdown decision. Regrettably, compared to the previous week, the number of new cases has risen by 55.16 percent and deaths by 46.30 percent in the seven days until Saturday. This could have been avoided.
Unfortunately, the lockdown has come at a time when the seven districts are saturated with the virus. However, this is no longer a matter that affects the seven districts only. The infection has also been transmitted inland from the borders, as statistics suggest. Saturday recorded 67 deaths—the highest since May 2—while the positivity rate rose to 18.02 percent, which was only 7.91 percent on May 29. The number of high-risk districts, i.e., where positivity rate is more than 10 percent, rose to 54 on Saturday from 36 on June 3.
What we are seeing is disjointed action, lack of specific policy, confusion, and a reactive rather than proactive response. What is needed is a strict lockdown (while making sure people have access to food and basic services, such as healthcare), since what we are witnessing now are cases of fast-spreading community transmission. So far, most of the lockdowns are so in name only—it is business as usual in most areas except in the education sector. We must recognise that the current Covid-19 is serious and we cannot treat it with levity.