Editorial
Livelihoods of indigenous communities under threat
Strict laws must be implemented to protect their rights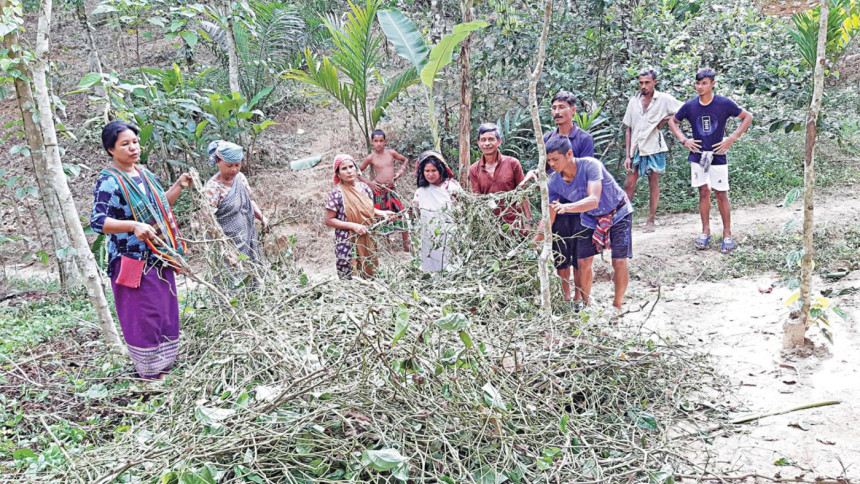 A recent report published in this daily sheds light on the worrying situation faced by several indigenous communities in Moulvibazar's Kulaura upazila. Despite the struggle for survival amidst the pandemic, a coterie of people plotted to attack their only source of income—betel leaf gardens—four times in the last seven months. Prior to the attacks, the communities were asked to vacate around 300 acres of their ancestral land on which they have been living and cultivating betel leaf for generations.
For the betel leaves to be plucked, a plant needs to be nurtured for two to three years. And since the series of onslaughts on the gardens, 2,450 mature plants have been ravaged. With such an agonising loss, the livelihoods of the already vulnerable communities are at risk and they face severe financial crisis. And the reoccurrences of such attacks remain very much likely. What is shocking is the fact that despite being caught red-handed, the residents of the village Fakhrul Ali—released in exchange for a bond following an arbitration—along with his accomplices Khairul Mia, Rafiq Mia and others, against whom a case was filed with Kulaura Police Station, all remain at large.
We have witnessed earlier how minorities and ethnic communities have been attacked, their properties damaged and, in some cases, their land grabbed, by people in positions of privilege and power, with impunity. We condemn such intolerable acts which disrupt communal harmony and destroy people's lives and livelihoods. Under no circumstances should they go unpunished. Legal action demands to be taken against the miscreants immediately. It is the government's responsibility to ensure that the police, along with the local administrators, do not protect the perpetrators but rather the indigenous and minority communities who are already under tremendous economic and social pressures.