Largest irrigation project under threat
WDB must act against sand, earth lifters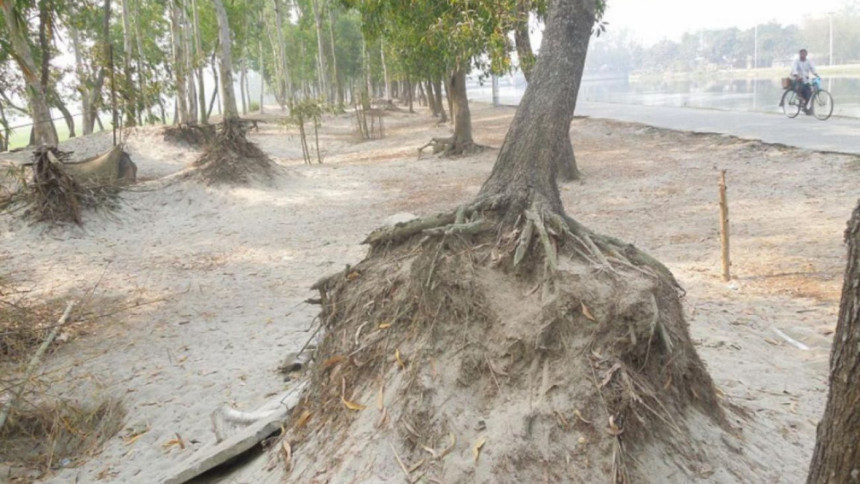 The 18km-long main canal that was commissioned in 1998 which is connected to other secondary and tertiary canal networks, spanning some 300km to bring water to some 44,000 hectares of Boro rice cultivation land, is now under threat from unscrupulous sand and earth traders. This project is a declared key point installation (KPI-1) and is the country's largest irrigation project. When a project receives a KPI rating, it means that it is of vital national importance and is supposed to be protected at all costs. Unfortunately, we have found through our own investigation that this is hardly the case since, according to the local people, one of the embankments of the canal has been damaged at 21 points in Dimla upazila.
Water Development Board (WDB) has stewardship of the canal and while its officials are quick to point out what great benefits the project has bestowed upon farmers through irrigation, there is no satisfactory answer coming forth on the presence of traders who have been willfully removing earth and sand from the embankments over the years. Unmitigated transfer of sand and earth has caused significant damage to the environment. Trees have been uprooted right down to their roots and local people are powerless to stop this because the administration has failed to act against people with vested interests.
How can a KPI be endangered in this manner? What is the point of spending thousands of crores of taka on such an important project when the local authorities turn a blind eye to such illegal activity that is steadily eroding the effectiveness of a project that brings benefits to thousands of farmers and plays a major role in ensuring food security? WDB's excuse for inaction, "shortage of manpower", is simply not good enough. Something needs to be done to take these illegal syndicates to task.