Indomitable spirit of a man who lost both his arms
There is so much to learn from his life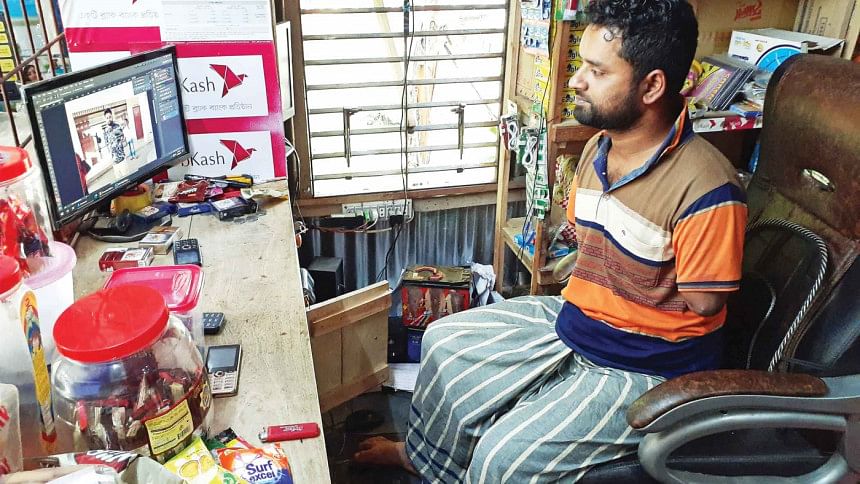 We feel truly encouraged to know about a man in Faridpur who, despite losing both his arms in an accident, has been working with an unbeatable spirit to change his fate. According to a report in The Daily Star on Thursday, Kamrul Sheikh was electrocuted in 2018 while working as an electrician. As both his arms were badly damaged in the accident, they had to be amputated. When he came back home after taking treatment at the burn unit of Dhaka Medical College and Hospital for around a month and a half, he found it hard to earn a living and provide for his family. But instead of losing hope, he kept trying to find a suitable work.
Coming from a poverty-stricken family, Kamrul did not study after the primary level and began working to support his family from an early age. There is nothing that he didn't do to survive—he worked as a carpenter, as a day labourer, as a rickshaw puller and finally as an electrician. After coming back from the hospital, he first bought four rickshaws with the money he got as compensation for the accident and rented them out. Then, being inspired by another man who was facing the same challenge as he was, Kamrul sold his rickshaws and opened a grocery shop with the money, which finally changed his fate. This spirited man has even learned to swim, cycle, operate computers and mobile phones using just his legs.
At a time when many people, especially our younger generation, are losing hope due to rising unemployment and poverty in the country, this man from a disadvantaged background has shown us how people can change their lives if they have the willpower. And Kamrul is not the only one; there are many brave and spirited women and men like Kamrul around us who have been working hard for a better future despite the situation around them being extremely adverse. We salute these people's struggle and determination to not give up whatever the challenge.