Formulate the guidelines immediately
Controlling the movement of slow-moving vehicles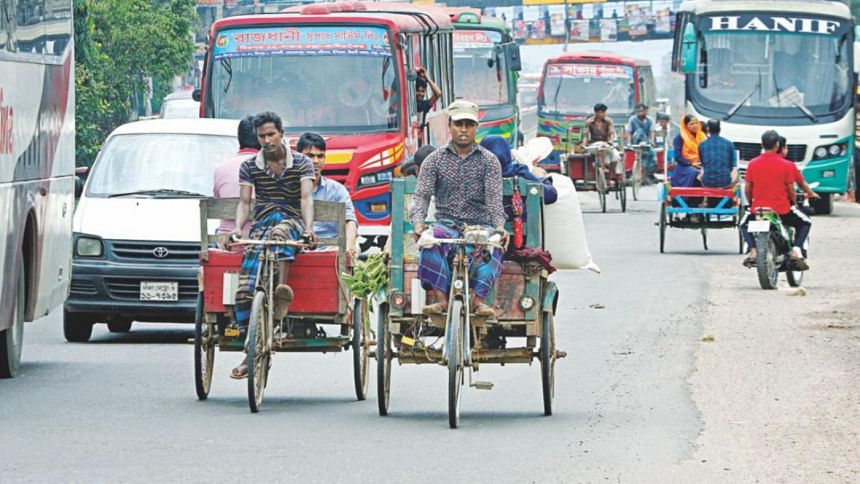 We appreciate the Road Transport and Bridges Ministry's decision to formulate a guideline to control the movement of slow-moving vehicles on our roads and highways. As per the government's decision, the Road Transport and Highways Division will have to prepare a draft of the guidelines within one month after taking opinions from Bangladesh Road Transport Authority (BRTA) and transport experts. Given the unusually long time it usually takes for any government plan to be materialised, we are not very sure whether the set deadline can be met, but still, the initiative is timely.
According to the Accident Research Institute of BUET, about 15 percent of all road accidents involve low-speed vehicles which do not have registration or fitness certificates. Amid such a situation, making the guidelines is absolutely necessary, because this will bring the nearly 10 lakh slow-moving vehicles, currently operating across the country, under regulation. We know that the government's previous ban on three-wheelers, including those made locally, and other slow vehicles on 22 national highways in 2015 could not be enforced for many reasons, including pressure from the local lawmakers.
While the government should talk with all the stakeholders, including the transport experts, before formulating the law, taking suggestions from the local people and those who drive these vehicles should also be considered. Banning the vehicles outright might not work, as the livelihood of many depends on them. The guidelines should be made in a way that benefit all. Determining which vehicles should be allowed to operate on highways and which vehicles should not will be a big challenge. But if separate lanes can be created for the slow-speed vehicles on the major highways, the problem can be solved to some extent. We hope that once the guidelines are made and enforced, the number of road accidents involving slow-moving vehicles will come down.