Editorial
An elderly woman hawker living independently, helping others in need
She deserves society's respect and care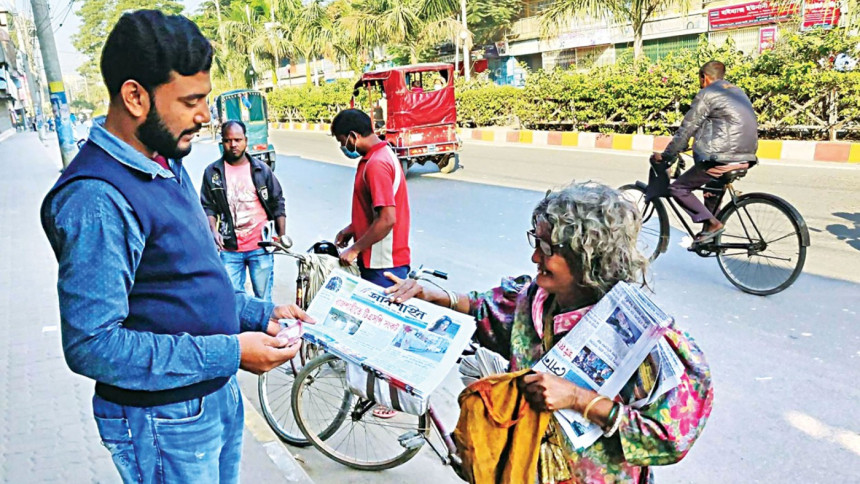 A story published in this daily yesterday of a 60-year-old woman, who has been living on her own and earning her living by selling newspapers for the last 30 years in Rajshahi city, has touched our hearts. Born into a well-off family, Dil Afroze Khuki was married off at a very early age, but then her husband died and she became a very young widow. She started working as a newspaper hawker by selling the now-defunct Rajshahi-based weekly Duniya in 1991, and has been working as a newspaper hawker ever since. She lives in the house she inherited, without anyone to take care of her but herself.
This courageous woman is not only living independently with her progressive views about the world but also helping others in need. She chose a life of constant battles by giving away her hard-earned income to the people in need. She bought sewing machines and bicycles for several young women and their husbands and helped a number of families become self-reliant by buying them cattle. Besides, she regularly donates to orphanages, mosques and temples.
She sells over 300 copies of newspapers every day, which is an amazing performance for a woman of her age and frail health. Unfortunately, Khuki's pursuit of a self-reliant, dignified life has not always received the appreciation she deserves. According to locals, she had to endure repeated harassment and assaults for living the life she has chosen to live. People often call her "crazy" and mistreat her. But this spirited woman does not care what people say to her, and carries on walking for miles on end selling newspapers. To her, earning an honest livelihood is more important than aspiring for wealth or climbing up the social ladder.
Dil Afroze Khuki's pursuit of a dignified life should be respected by all. She has set an example of selflessness and compassion for which she deserves our appreciation.