Editorial
Definition of rape must be changed
The narrow definition of rape and archaic provisions lead to low conviction rate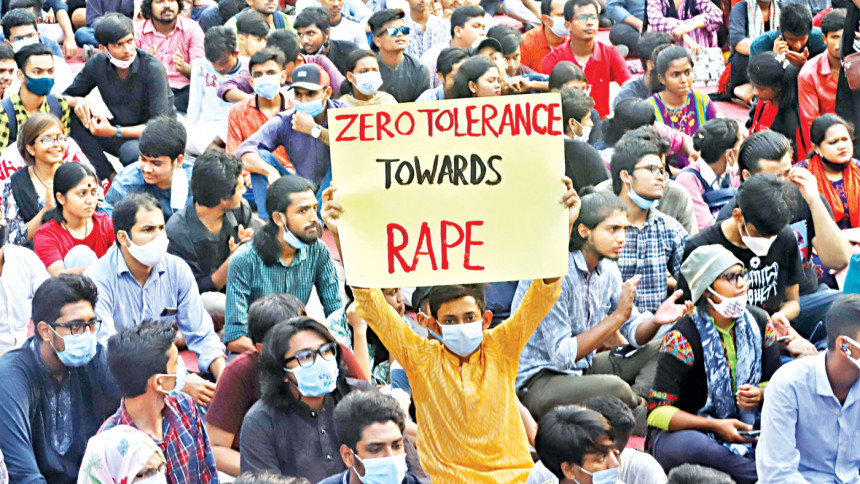 While rape in reality constitutes many forms of violent actions, the definition of rape in our laws, unfortunately, is limited to only a certain form. As unbelievable as it might seem in this time and age, rape is still defined only as penile-vaginal penetration in our laws. Section 375 of the Penal Code 1860 defines rape as sexual intercourse with a woman against her will, without her consent, and adds that penetration is sufficient to constitute the sexual intercourse necessary to the offence of rape. And that's all. While the punishment of rape was modified in the Women and Children Repression Prevention Act in 2000, it did not touch upon the substantive definition of rape.
The archaic definition we presently have prevents many of the rape survivors from seeking justice for the crimes committed against them. Not only the definition but other archaic provisions in laws relating to rape also result in a low conviction rate—a 2019 study found that only three percent of the rape cases end in conviction. Procedures such as medical tests to find semen, character evidence against rape complainants in court, etc. further add to the trauma and scrutiny of the survivors. The narrow definition of "sexual intercourse with a woman" also makes it difficult to prosecute child rape, male rape or the rape of transgender individuals. Furthermore, the law also fails to criminalise marital rape.
Therefore, reforming the rape laws by providing death sentence to the rapists—as announced by the law minister in the wake of nationwide protests against rape—would hardly help in increasing the conviction rate, if other far more crucial changes are not made to the law. In modern rape laws around the world, penetration with objects or other body parts and penile penetration are equally punishable offences and deserve an equal degree of punishment. We also need to ensure that our rape laws are compatible with global standards. The brutality of being raped with a stick, or hands, or the violence exhibited in the video of the gang-rape of a woman in Noakhali, is in no way less in proportion than a penile-vaginal rape.
It is time we rethought and reformed the definition of rape in our laws to ensure justice for the rape survivors.