Editorial
Covid-19 variants from India spreading across Nepal
Bangladesh could be next if we are not careful!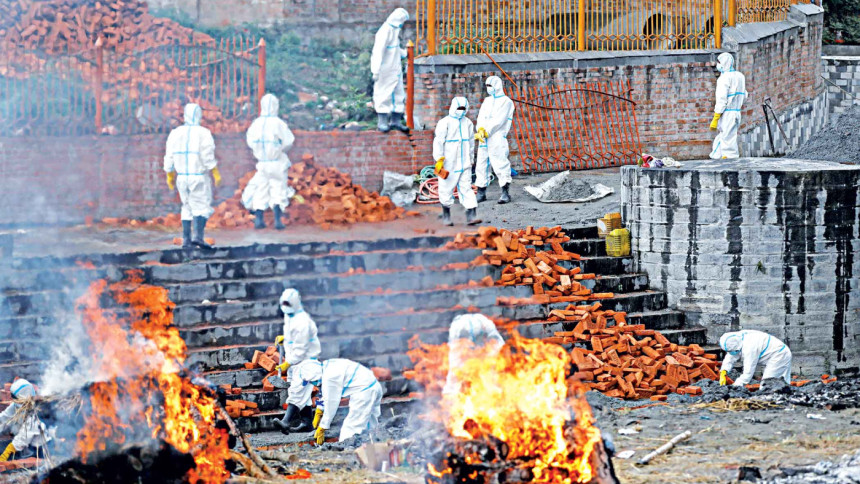 According to the International Federation of Red Cross and Red Crescent Societies, Nepal is now being overwhelmed by a surge in Covid-19 infections as India's outbreak spreads across South Asia. Nepal is currently recording 57 times as many cases as it did only a month ago, with a testing positivity rate of 44 percent. Nepalese towns near the Indian border are already struggling to cope with the increasing number of people showing symptoms of Covid-19. And the Red Cross has warned that the horrific scenes being witnessed in India could very well be a preview of what lies ahead for Nepal, should it fail to contain the virus quickly.
India accounted for nearly half the cases reported worldwide last week. On May 5, the World Health Organization said that Covid-19 deaths in South Asia rose by a record of 3,780 during the previous 24 hours. The mutated variants spreading across India seem to be more contagious, with those infected experiencing severe symptoms. Over the past weeks, India's healthcare system has been completely overwhelmed by the number of Covid-19 patients. States in India and national government agencies are scrambling to provide oxygen to hospitals across the country, as patients are dying in record numbers every day from the disease and due to a lack of oxygen supply.
In spite of that, scientists are still warning that the worst may not be over for India and that its government should prepare for a third wave of the virus. That means that we, too, must act. Besides constantly shoring up the healthcare sector, the government should also focus on guarding our borders against the disease. Already the mutated virus seems to have spread across boundaries from India to Nepal, as confirmed by the Red Cross. Therefore, the government must take all necessary measures to ensure that this spread caused by new variants does not spill into Bangladesh, which will be cataclysmic.
Unfortunately, every day people are coming and goods-laden truck drivers are entering Bangladesh from India. It's time the government organised a special drive to monitor them and ensure they are not spreading the virus. This will mean enforcing the quarantine even more strictly for those coming from India and ensuring that those who have tested positive do not leave the hospitals at the border until they are fully recovered. Already we have reports of a number of Covid positive individuals coming in from India, escaping a hospital in Jashore and then being readmitted after being apprehended by police. What about the people they came into contact with while they were out of the hospital? Has there been any contact tracing to find out potential concentrations of the virus? Experts have been asking the government to remain vigilant and do much more to prevent the Indian virus from entering the country. And the government should pay heed and be more proactive in that and in monitoring border districts strictly for this purpose.