Canals continue to be destroyed
Why are government departments involved?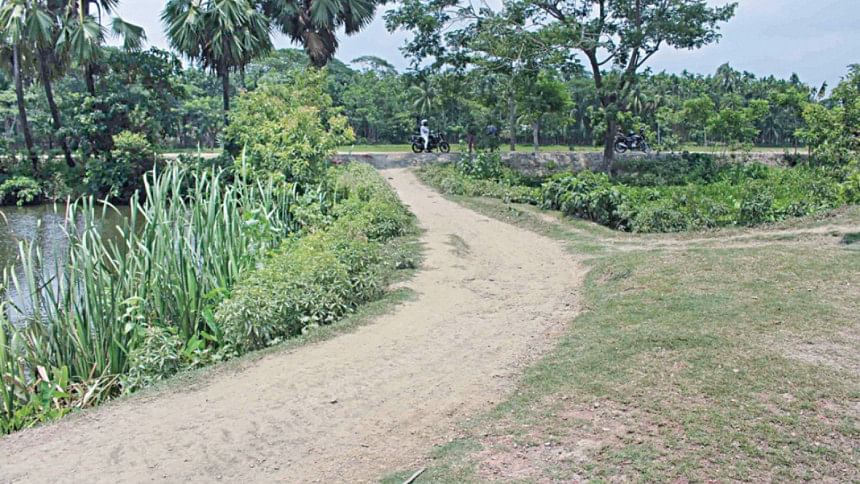 It is the same story over and over again. Canals—that were once used for water transport and irrigation of farmland—are being encroached upon rendering them useless and causing unnecessary suffering to the local people. This time it is the people of Mathbaria upazila (Pirojpur) who are the sufferers of indiscriminate cutting up of at least four canals where numerous dams and roads have been built.
A former chairman built a road across one of the major canals around 15 years ago putting an end to water transport. If that was not enough, the LGED put the nail in the coffin by carpeting the road and making it permanent. Then dams were added one by one on the canals while the Roads and Highways Department (RHD) built a permanent road on one of the dams.
The result of these incursions is that thousands of acres of land have become uncultivable because they remain under water most of the year. Transport of bulk goods and commodities has also become costlier as the former network of canals has been destroyed so water transport can no longer be used.
What is most astonishing is that none of these constructions have been approved by the Water Development Board (WDB)—the main body to give authorisation. In fact the WDB has asked both LGED and RHD to remove the roads and replace them with bridges and even the locals to remove the illegal dams. But obviously such requests have fallen on deaf ears.
We are quite used to seeing influential individuals encroaching upon water bodies. But it is unfathomable how government departments can flout the rules laid down by the government itself by constructing illegal structures, that too on water bodies that are lifelines of the upazila.
How many more deaths of canals and other water bodies must we witness before something is done to stop this indiscriminate onslaught which government departments are a part of? The WDB must be a lot more proactive in taking quick, effective action against such encroachment to protect these precious water bodies.