Address Khulna's waste management immediately
KCC's inertia inexplicable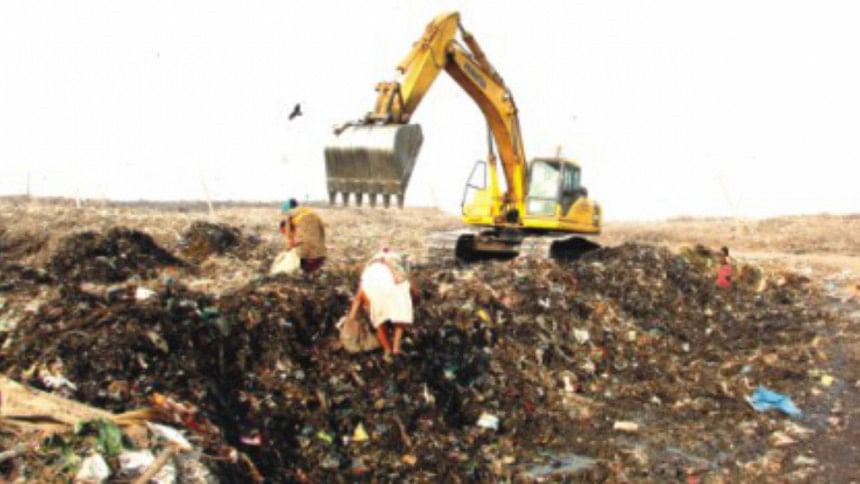 Khulna, the third largest city in terms of population in the country, is home to over a million people. And these million people of Khulna City Corporation (KCC) are at severe threat of health risks and the effects of environmental hazards due to the wretched conditions of waste management in the city. According to a report published yesterday in this paper, of the 550-600 tonnes of solid waste produced daily by the city, the city corporation can collect only 400 tonnes.
One of the reasons behind this failure of management is surely the logistical inadequacies of the city corporation. But that negligence and apathy of the KCC along with the irresponsibility of the people have made this problem worse cannot be denied. Residents complain about stench, and arbitrary dumping of the uncollected waste in front of houses. With inadequate dumpsters in the city, citizens end up dumping waste in open drains and waterbodies. The health hazards, ranging from respiratory to water-borne diseases, not to mention the stench and destruction of the environment that this gives rise to, are common knowledge. Open waste containers are seen even in front of hospitals.
The KCC has stressed that it needs the help of its citizens to solve this waste management issue. But we want to ask: What efforts have been initiated to mobilise that support? Ultimately, the responsibility lies with the KCC, and it clearly has not done enough. Providing more dumpsters, recruitment of manpower, and awareness-raising of the community are immediate steps it could start taking. But for Khulna city, a rising hub of industries, to truly thrive, a holistic plan for waste management (with relevant regulations, clear designations of responsibilities, and provisions for recycling) is needed. We urge that the KCC acts on its verbal pledge to solve the problem in this tenure.