Mobile application for accident victims
Help such private initiatives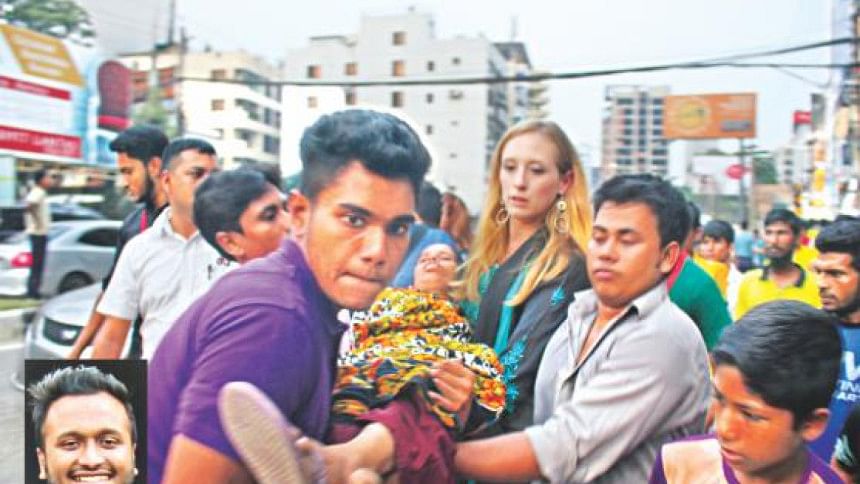 We laud the efforts of CrticaLink which has developed a mobile application that sends alert to volunteers so that they can respond when a disaster strikes. It is indeed  heartening to note that the organisation has build the infrastructure necessary to carry out the task by training as many as 3,000 individuals in emergency medical aid, of whom 380 people it has certified. We believe that the initiative, launched by a US and a Bangladeshi citizen can become a lifeline for the victims of road accidents, the number of which has lately seen a marked rise. Also, it is encouraging that private individuals are coming up with such unique, life-saving enterprises, which the state, with its formidable infrastructural advantage, should have initiated on its own.   
It is no less than shocking that Bangladesh does not have a dedicated helpline for accident victims, especially because 21,000 die in the country every year, of them over 80 percent meet their tragic end on the way to the hospital. A dearth of ambulance and the spectre of gridlock in the street that prevents speedy evacuation are primarily to be blamed for these avoidable deaths. In this line, the role of CriticaLink is crucial as it provides emergency medical aid in situ. 
We must not forget that fighting road accident is a continuous, dynamic process and the government should play its due role in arresting its rise. We urge the government to actively help CriticaLink and other agents of change who endeavour to bring in succour to the poor and helpless. Also it is high time to establish a telephone helpline and bring the cities under the observation of closed-circuit TV camera so that accidents, criminal activities and other such emergencies can be monitored and responded to.