Mayhem in Rangpur
Could this not be prevented?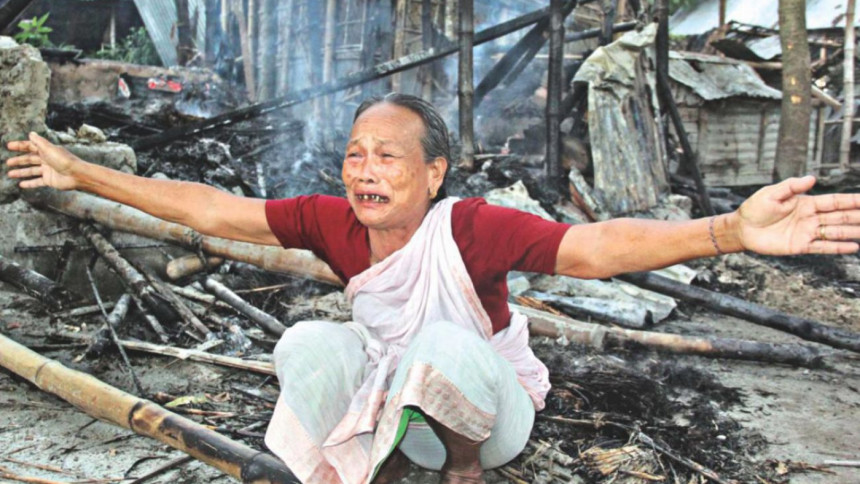 We vehemently condemn the shameful attacks committed on the innocent Hindu villagers of Horkoli Thakurpara, Rangpur. The latest incident reminds us of the similar synchronised events that occurred in Ramu and Nasirnagar.
Religious extremists burned down at least 30 Hindu houses because a Hindu youth allegedly posted objectionable content relating to Islam on Facebook.
We saw in the past that such allegations against minority people turned out to be false. Subsequent investigations found that someone either hacked the alleged Facebook account of a minority or manipulated images to flare up tensions. In this case, it was not yet verified whether it was indeed the alleged perpetrator who posted incendiary contents, or otherwise.
Even if he did, there are now legal avenues for one to address the issue. Instead of pursuing the legal path, why would one resort to indiscriminate violence against villagers who had no role whatsoever in the alleged misdeed?
Like the previous such incidents, the local police in Rangpur failed to anticipate what was coming and assuage tension, while a group of radicals were inciting locals for days. Such repetition of negligence is utterly unacceptable. If the police had been proactive before tension burst into violence, the tragic incident could have been averted, and they would not have needed to exercise force in the aftermath that caused at least one death.
We cannot mitigate the psychological damages already caused to the villagers. However, if, like the previous cases, we fail to identify and bring the perpetrators and their sponsors to justice, we will further entrench the culture of impunity. We cannot risk doing so if we want to live in a country where the minorities do not feel insecure.