Lessons from Rana Plaza
We have learnt ours, have the buyers learnt any?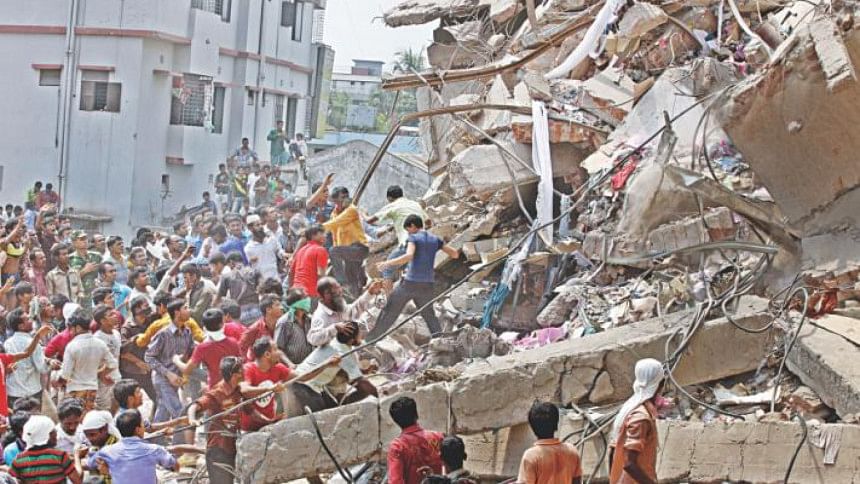 Five years after Rana Plaza collapse, the deadliest garment factory accident in history that took over a thousand lives, the collective efforts of the Bangladesh government, entrepreneurs, apparel retailers and brands, workers' rights groups, NGOs and inspection bodies such as the Accord and Alliance, have led to considerable progress in fire, electrical and structural safety in Bangladesh's garment factories. But more needs to be done.
However, we must ponder for a moment why Rana Plaza happened—why the factory was housed in a building that was not fit for a factory, let alone a number of them which the building actually housed, not to speak of the fact that it was in a dilapidated state. The underlying motivation was to produce cheaply. And that is what we want to flag. What attracts global retailers to Bangladesh is of course the cost of RMG in Bangladesh. But cutting cost doesn't mean cutting corners, certainly not sacrificing safety or cutting wages. And in this regard the buyers who insist on fulfilling every requirement, and quite rightly too, should also play their due role in sustaining the progress that Bangladesh has made in the RMG sector since April 24, 2013.
Production cost has gone up but global brands are not paying up. This is affecting both manufacturers at home and garment workers because the former's ability to pay better wages to the workers and be compliant greatly depends on global brands committing to more than they are now.
Garment workers' wellbeing is inherently linked to international brands' commitment to spend more on sourcing apparel items from Bangladesh. Experts and researchers have come up with some very good recommendations, such as bringing workers under insurance coverage, which will be very hard to implement until and unless global brands and retailers do their part to show that they are sincere about the livelihood of our workers.