Bangladeshis trapped in Libya
Government must work towards repatriation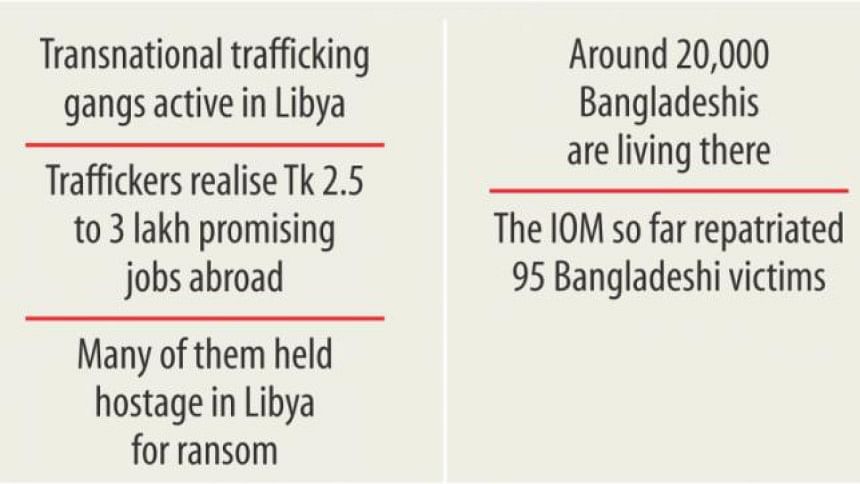 The fate of Bangladeshi migrant workers, taken to Libya on false promises, is one of gross human rights violations. A report published in this paper yesterday revealed the dire conditions – which include forced labour and inhumane torture – that thousands of Bangladeshis are being subjected to. Take the case of Mohammad Ilias, who was taken to Libya with the promise of work in Sudan. He was confined to a room in Tripoli with many other Bangladeshis. All this, to extort money from these unfortunate workers, who are ready to go to foreign lands in search of a better livelihood.
Ilias's family was able to salvage the lakhs of taka that was demanded. At least he was able to come back to Bangladesh, although heavily indebted. The fate of others still trapped is less certain. According to the labour counsellor of the Bangladesh embassy in Tripoli, an estimated 20,000 Bangladeshis are still in Libya, either waiting to return home or cross the Mediterranean to reach Italy. From the deception used by brokers in Bangladesh to traffic these individuals, to the the torture and extortion, every aspect of this gruesome trade is criminal.
What is needed is concerted effort to arrest and prosecute the Bangladeshi and Libyan trafficking nexus that lure the workers with false promises – only by cutting off the base can further deception be stopped. Our government must take strong measures, working with the embassy in Libya and other international organisations, to repatriate those still trapped abroad. Strengthening the state institutions which are supposed to uphold our migrant workers' rights is crucial.