Digital World kicks off amid high hopes
Digital World kicks off amid high hopes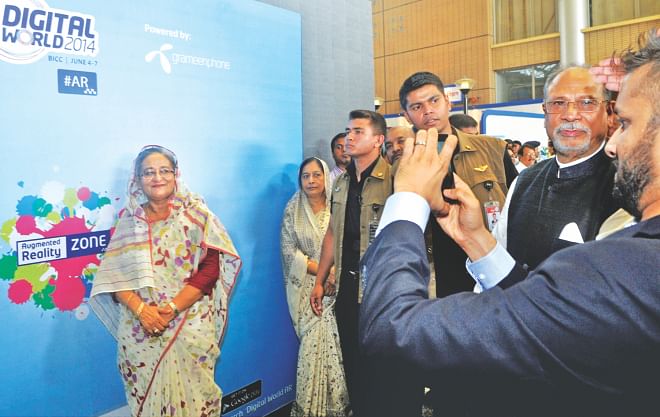 A four-day ICT exposition, Digital World 2014, kicked off in Dhaka yesterday to showcase Bangladesh's achievements in information and communication technology and spread a positive message home and abroad.
The country's biggest ICT exposition was organised jointly by both the government and the private sector, and it is expected to create a platform for a free flow of ICT-related ideas with global ICT think-tanks. It will enrich knowledge and guide the nation towards achieving its vision for Digital Bangladesh by 2021.
Prime Minister Sheikh Hasina inaugurated the event yesterday at Bangabandhu International Conference Centre, where about 35 foreign delegates from 15 countries will deliver speeches in different seminars and technical sessions.
Earlier, the government and Bangladesh Association of Software and Information Services (BASIS) used to organise different events, but this time, both have joined efforts under the same umbrella. This event could not be organised last year for the political stalemate. The exposition also includes a section for mobile applications and games.
The government will set up high-tech parks in every district in phases to develop the IT sector in every corner of the country in the areas of industry, health, employment generation, poverty alleviation, economic development and people's empowerment, Hasina said.
Hasina said the government established the High-tech Park Authority under which projects on setting up of high-tech parks, software technology parks, and building information incubator are being implemented, according to UNB.
The government has formulated the ICT policy and Information Security Guidelines, in addition to enacting the ICT Act and the Right to Information Act to expand the sector, Hasina said. The Telecommunications Act has been made time-befitting through necessary amendments and this service has been brought under accountability.
IT and software businesses have been exempted from paying income taxes and VAT has also been exempted on imports and at the production level of software, she said.
The prime minister referred to establishment of a 'research and development center' in Bangladesh by Samsung, and setting up offices by organisations like Google, Microsoft and Dell.
Russell T Ahmed, chief project officer of the event, said scope for business matchmaking of the local software development firms is created at the fair. At the same time, the government institutions can show their citizen services through the fair, he added.
"We want Digital World to become a signature event for Bangladesh," he said.
Currently, the country earns around $250 million by exporting IT and IT enable services through firms or personal initiatives, which was only $5 million five years ago. "We aim to develop it to $1 billion by 2018 and contribute 1 percent to the gross domestic product."
Mustafa Jabbar, an IT expert, said the fair can create a bridge between the people and government or the other facilitators. The ICT law and policy should also be included in the event, he added. However, there is no showcase of digital devices at the fair, though the dream of a Digital Bangladesh will not be possible without it, he said.
The event has been divided into different zones so that participants find it easier to meet their individual needs, like e-governance, outsourcing, e-commerce, business software, mobile content and application, IT education, IT job fair, career counselling, multimedia and animation, communication and crowd and inspiration platform for the youth.
More than 200 exhibitors are taking part in the event including local and international software firms, mobile operators, educational institutions, government institutions, while over 100,000 visitors are expected to visit the fair.