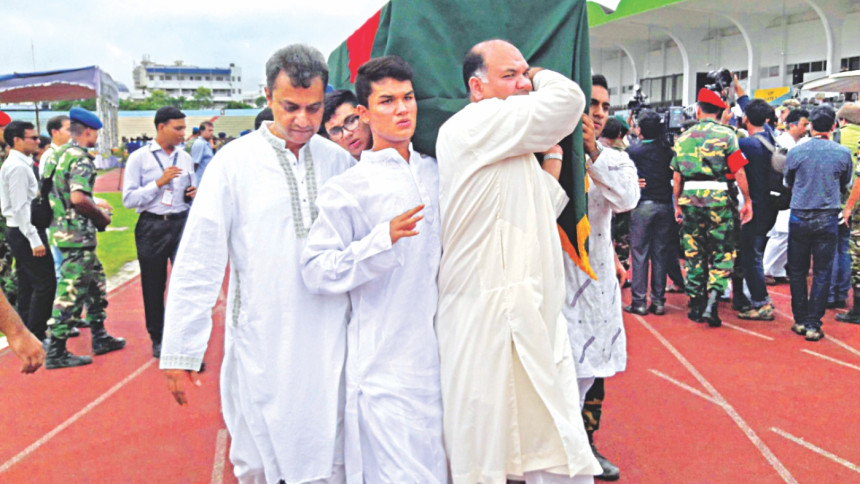 His family affectionately called him Chhotu, which means the younger one. And it is never easy for a family to bury the young one.
The young and talented youth Faraaz Ayaaz Hossain was one of the 22 victims killed in Holey Artisan Bakery. He was buried at the Banani Graveyard yesterday evening.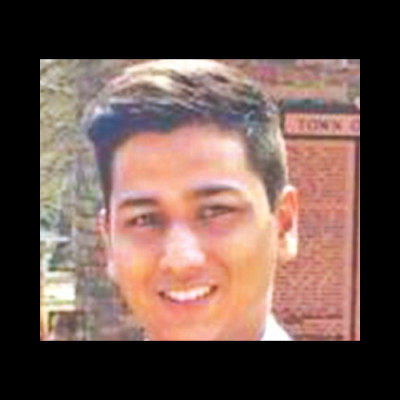 Faraaz was the grandson of Latifur Rahman, chairman of Transcom Group, and Shahnaz Rahman. He was the son of Simeen Hossain and Muhammad Waquer Bin Hossain.
Faraaz, along with his friends Indian national Tarishi Jain, a student of the University of California, Berkeley, and Abinta Kabir, a Bangladesh-born US citizen were in the restaurant on Friday evening.
Abinta, daughter of Ruba Ahmed, chairman of Elegant Group, and Faraaz were both students at Emory University in Atlanta, and had come to Bangladesh during their summer holidays to visit family and friends.
During Friday's attack at the restaurant, militants asked Faraaz to leave. But his friends who had foreign citizenships were not allowed to leave. Faraaz refused to leave his friends behind and was eventually killed along with his friends.
When Chhotu was taken to his grandfather Latifur Rahman's home in Gulshan around 1:00pm after the authorities handed over his body at the Army Stadium, his mother broke down in tears and kissed his mortal remains.
The entire family was in tears.
The coffin was kept there until 4:30pm for friends and relatives to see him for one last time.
From there, the body was taken to Banani graveyard.
Before the namaj-e-janaza, Zaraif Ayaat Hossain, elder brother of Faraaz, asked the people at the funeral, "Please forgive my brother if he hurt anybody -- knowingly or unknowingly. Please pray so he is granted a place in heaven."
He also requested people to contact him if there was any unpaid debt of Faraaz.
Family members of Faraaz and Abinta, Prof Emeritus Anisuzzaman, Water Resources Minister Anisul Islam Mahmud,  BNP Chairperson Khaleda Zia's Adviser Inam Ahmed Chowdhury, Prothom-Alo Editor Matiur Rahman, The Daily Star Editor Mahfuz Anam, Dhaka North City Corporation Mayor Annisul Huq, former president of FBCCI AK Azad Chowdhury, Apex Group Chairman Syed Manzoor E Elahi, former attorney general AF Hassan Arif, former BGMEA president Atiqul Islam and trustees of Liberation War Museum Akku Chowdhury and Mofidul Haque along with people of all walks of life attended the janaza.
Meanwhile, Ishrat Akhond, 45, another victim of the Gulshan attack, was buried at the graveyard of Bangladesh Agricultural Research Institute in Gazipur around 3:45pm, her family members said.
Her body was handed over to the family around 10:40am after Prime Minister Sheikh Hasina and others paid tribute to the victims of the terrorist attack.
Ishrat was the human resource director at ZXY International FZCO and Arts Provocateur at Institute of Asian Creatives.
Her brothers Yusuf Hayat Akhond, the chief scientific officer of BARI, and Ali Hayat Akhond, her maternal uncles Justice Obaidul Hassan, Sajjatul Hassan and Saiful Hassan were present, among others, at the funeral.
She was buried after her second namaj-e-janaza.