Amid Dhaka row, Zakir Naik calls IS 'un-Islamic'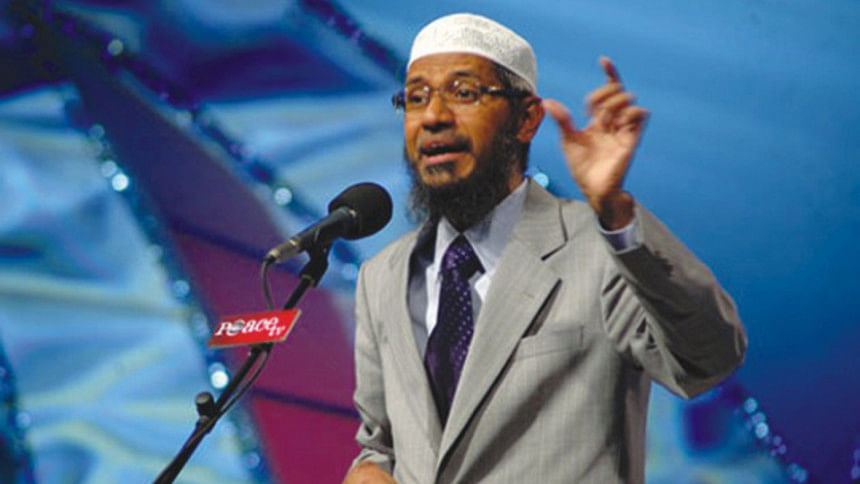 Islamic preacher Dr Zakir Naik said the term Islamic State of Iraq and Syria (ISIS) is "unIslamic", reports The Indian Express.
Naik, 50, the Mumbai-based founder of the Islamic Research Foundation, condemned the Dhaka terror attack and said, "By using the name Islamic State, we are condemning Islam… They are the anti-Islamic state of Iraq and Syria that has killed innocent foreigners. The name is given by enemies of Islam."
On the Dhaka attackers reportedly being inspired by his preaching, Naik, speaking over the phone from Mecca, said he has 14 million followers on Facebook, besides 200 million viewers of Peace TV in multiple languages, including Urdu, Bengali and Chinese.
"The largest percentage of my Facebook followers are from Bangladesh. Ninety per cent of Bangladeshis would know me, including senior politicians, philanthropists, common men, students and more. Fifty per cent would be my fans. Am I shocked that the attackers knew me? No."
This, however, does not mean that he endorses their methods, he said. Stating that a lot of people "come close to Islam" because of him, he said such people then listen to other speakers, including some who, in the name of Islam, misguide thousands.
"Such a person would be a hardcore fan of Prophet Muhammad. Does that mean Prophet Muhammad told him to kill people?" Naik asked, adding that the Quran explicitly states that when a person kills another, of any religion, "it is as though he has killed the whole of humanity".
Regarding calls in various countries to ban him, Naik said some Hindu "fanatics" are behind such calls. He said that a quarter of his followers on Facebook as well as attendees at his lectures comprise non-Muslims. At lectures, he said, non-Muslims are encouraged to be the first to ask questions. "When I have clarified their doubts, these non-Muslims have a positive view of Islam, and this threatens the fanatics," he said.
A former medical doctor, Naik has courted controversy several times in the past, including in 2010 when the Conservative British government revoked his visa and barred him from entering Britain. Having famously reiterated in the past that he cannot term Osama bin Laden a terrorist, Naik said Islam forbids him from commenting on a person he does not know and has done no research on.
A follower of the late South Africa-based preacher Ahmed Deedat, Naik follows the former's style of using English and technology to reach out to people ever since he set up the IRF in 1991.
Other terror suspects who were reportedly fans of Naik include Afghan-American Najibulla Zazi, who was arrested in 2009 for an alleged conspiracy to bomb the New York subway, Dr Kafeel Ahmed who stormed Glasgow airport in an explosives-laden car in 2007, and Mumbai's Rahil Sheikh, arrested for the 7/11 serial train blasts.
Denying that investigators in any terror cases have approached him, Naik claimed that Indian intelligence agencies, too, have not given adverse reports on his activities.