UPL launches Gyantapas Abdur Razzak's PhD thesis, 'Political Parties in India'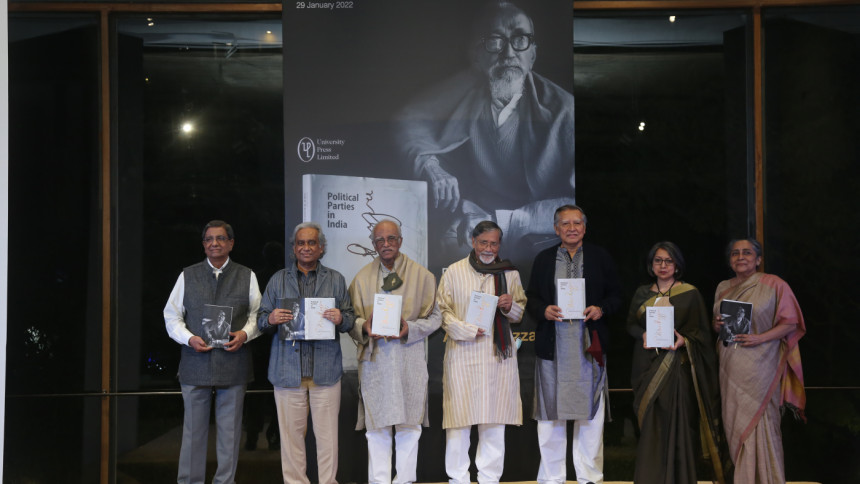 In a book launch held at the capital's Bengal Shilpalay today, Gyantapas Abdur Razzak Foundation and University Press Limited held a discussion session on Professor Razzak's Political Parties in India, the scholar's 1950 PhD thesis for the London School of Economics, published now for the first time in book form. 
"Publishing this book is a matter of great pride for us", UPL Managing Director, Mahrukh Mohiuddin, said in her opening remarks. "It will be of interest not only to political scientists, but also to historians and experts of our political and academic sphere". 
Professor Rounaq Jahan, a student of Professor Razzak in DU who first discovered his thesis from the footnotes in a book by Khaled bin Sayeed, shared her earliest impressions of reading the document. 
"It didn't read like a thesis. It read like a book", she recalls. 
In her Foreword to the UPL edition, which has been edited by Ahrar Ahmed, professor emeritus at Black Hills State University in the US, and director general of Gyantapas Abdur Razzaq Foundation, Rounak Jahan offers a synopsis of the basic arguments presented in the thesis. 
That political parties of then India operated more in the form of political protest was Professor Razzak's basic hypothesis. He argued that they failed to align with the basic principles of democratic political parties—that parties should operate as part of an economic programme, while those in India were working primarily to dismantle colonial rule in India; that politics must offer space for dialogue and peaceful adjustment of different opinions; that politics must have rotational power; that everyone must have equal opportunity to participate; and that no one party can become a permanent majority or minority. 
"I mention these points because they are still relevant, because we still do not have these things in Bangladesh", Professor Jahan said. As with his style of speaking, she added, his book, too, is provocative and passionate, reflecting his tendency to treat any form of received wisdom by questioning it, rejecting it, and proposing an alternative hypothesis.   
Aired live on UPL's Facebook and YouTube channels at 4 PM, the panel discussion included theoretician, analyst and academic Badruddin Umar, former Finance Secretary and Minister for Finance, Government of Bangladesh, M Syeduzzaman, human rights activist Hameeda Hossain, CPD chairman Rehman Sobhan, distinguished fellow at CPD, Rounaq Jahan, founder trustee of the Liberation War Museum, Mofidul Hoque, Professor at University of Liberal Arts Bangladesh, Salimullah Khan, editor and publisher of The Daily Star, Mahfuz Anam, and Prothom Alo editor, Matiur Rahman. Historian and writer, Muntassir Mamoon, could not attend the programme due to ill health. 
"We have all been part of the great adventure of Professor Razzak's thesis at various stages in our numerous encounters with him", Professor Rehman Sobhan recalled. "This always used to be greeted with loud laughter. I'm not sure whether the laughter was an act of discouragement or inducement for us to be foolish enough to go ahead and do something about it."
"He had an image of a scholar, a truly dedicated teacher, and we students of DU were disciples of that myth even if I wasn't directly taught by him. I thank Professor Ahrar Ahmad for the intellectual labour, dedication, and sincerity he has put into this project", Editor Mahfuz Anam said. 
Looking back upon the genesis of Gyantas Abdur Razzak Foundation, Abul Khair Litu, Chairman of Bengal Group Ltd and member, Board of Trustees of the Foundation, said of his uncle, "Professor Razzak taught us that if someone does you injustice or even writes against you, but if he is a good and educated human being, then accept him as he is. On behalf of my family, I have tried to fulfill my duties towards continuing to further his work".