Time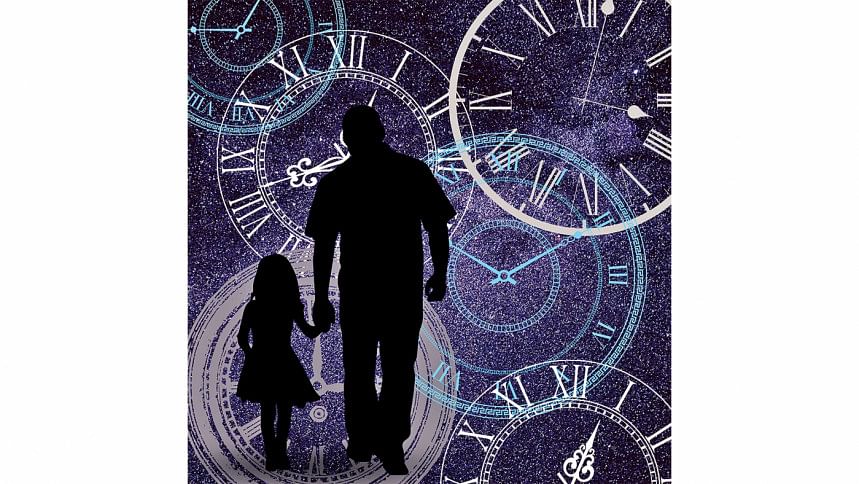 For Bapi
Pinned between two distant arms, I,
run empty houses in distant dreams,
In a distant memory, I turn the key
I lock the door as I leave.
We shop for plump mangoes and stock bananas,
Father, you drive us to the petrol station
I sit buckled, as if on a coaster,
With my small hands wrapped around the seatbelt
I am safe as you pay our bills.
I am safe like a little doll in her ceramic house,
I shift between places, you carry me through;
One day I fall asleep on your blue couch,
I wake up and I am 22.
It's June–the first day of Summer,
You have never come home empty-handed,
And I stand by our apartment door,
Eye the lift as it totes between floors.
Father, you have come home with me ever since
and never left because I do not know your absence.
There is this stinging weight I shoulder,
I stomach it the way a daughter would,
Voids in the house, your empty glass cases,
Ashtrays outnumbering my soiled grief,
Dreams of you jolt my sleep awake,
Is this how it used to be?
I do not resemble your arms any longer,
I take your shirt, I fold it clean;
So Bapi, I have to ghost you
You see, it has come to this.
You will always be 58 and next Summer,
I will be 23.
Snata Basu is an aspiring poet from Dhaka, Bangladesh. Her work mostly centers on passionate, personal bindings. She is currently pursuing a Bachelor of Arts in English Literature at North South University.