Zafrullah apologises, SC cancels his fine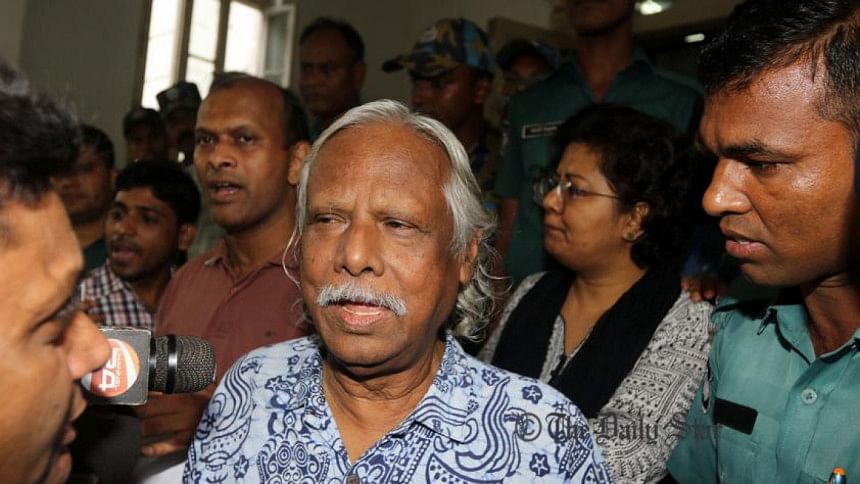 The apex court today scrapped the International Crimes Tribunal-2 ruling imposing Tk 5,000 fine on Gonoshasthaya Kendra founder Zafrullah Chowdhury for contempt of court after he apologised unconditionally.
A four-member bench of the Appellate Division headed by Chief Justice Surendra Kumar Sinha accepted his apology after Zafrullah moved his prayer.
The court also warned him of passing any derogatory comment over any court in the future.
Earlier this morning, freedom fighter Zafrullah moved his apology prayer, over criticising contempt punishment of a journalist, through his lawyer.
The chief justice clearly stated that where a stigma is cast on any person, they have a right to a remedy, and that other than article 104 of the Constitution, the Court has an inherent power to provide a remedy, Barrister Sara Hossain, who was present in the court during the ruling today, told The Daily Star.
"The AG (attorney general) had said that only the ICT could hear a review against its own judgment in contempt."
The SC, by exercising its powers in this way, has clarified that there is recourse against the ICT's judgments on contempt, she pointed out.
On June 10, the International Crimes Tribunal-2 held Zafrullah imprisoned for an hour and fined him Tk 5,000 for criticising the punishment of Dhaka-based British journalist David Bergman.
Zafrullah was ordered to pay the fine in seven days and suffer a month's jail term in default.
On June 16, Zafrullah filed a petition to the Supreme Court challenging the tribunal verdict.
On the same day, the Chamber Judge of the Appellate Division stayed the tribunal verdict and sent his petition to the full bench for hearing.
A freedom fighter, Zafrullah Chowdhury, along with Dr MA Mobin, visited the frontlines of the war during Bangladesh's War of Independence, and began treating wounded freedom fighters. With the help of Bangladesh's government in exile, they established Bangladesh Field Hospital on the eastern border near the Tripura and Comilla districts. In 1972, the field hospital was renamed Gonoshasthaya Kendra or People's Health Centre.