Yunus Centre protests PM's remark
Yunus Centre has protested Prime Minister Sheikh Hasina's remarks at the parliament about Nobel laureate Professor Muhammad Yunus.
"Honorable Prime Minister during a speech in Parliament made a number of incorrect and untrue statements about Professor Muhammad Yunus on the floor of the parliament on 25 January, 2017," read a rejoinder published at the website of centre on Saturday.
READ MORE: Hasina blasts Yunus in parliament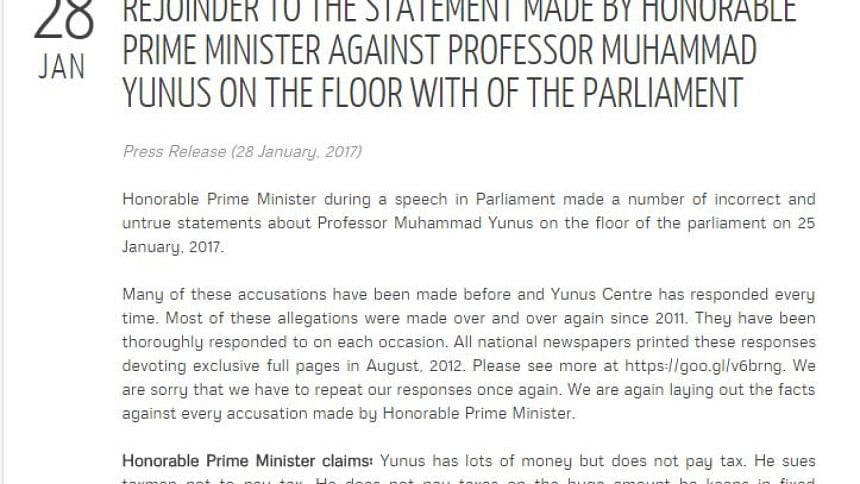 The rejoinder also stated that many of these accusations have been made before and Yunus Centre responded every time; and most of these allegations were made over and over again since 2011.
"We are sorry that we have to repeat our responses once again. We are again laying out the facts against every accusation made by the Honorable Prime Minister," it said.
In response to the premier's statement that "Yunus has lots of money but does not pay tax", Yunus Centre said that the allegation of avoiding paying taxes is completely false.
"Professor Yunus always pays his taxes in full and without fail. He pays substantial amounts in taxes every year. Honorable Prime Minister has given false information to the nation from the floor of the Parliament," it said.
"Professor Yunus never tried to avoid due taxes by making excuses. His tax files have been investigated repeatedly in order to find fault with them but every time it has come out clean," it also said adding that according to newspaper reports, all banks in the country were asked last month to give Professor Yunus and his wife's financial dealings with them and nothing new came out of these bank reports either.
Mentioning the income sources of Professor Muhammad Yunus, it said, he remits his earnings from lectures and books back to Bangladesh through formal banking channels and all details are always given by the banks and are submitted to the tax authorities. "To claim that sources of his income are not known to the government is not the truth."