Medical aspirants threaten tougher agitation
Writ seeks cancellation of exam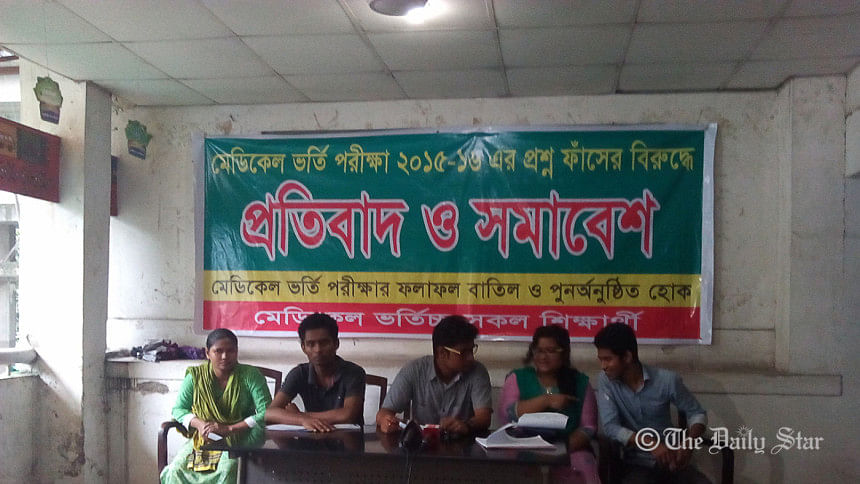 -- Protesters allege questions were available by Thursday night
-- Director of health says exam was free and fair
-- Writ filed with High Court to scrap the exam
Admission seekers threatened to go for tougher programmes demanding a retake of the medical and dental tests alleging question paper leak.
The demand was placed from a programme near Jatiya Press Club in Dhaka under the banner of Students Seeking Admission in Public Medical Colleges.
Questions were available by Thursday night, a day ahead of the exams, Hasibul Hossain, convener of the platform, told The Daily Star.
The examinations were held on Friday. ABM Abdul Mannan, director of health, said tests were held in a free and fair manner throughout the country.
READ more: Medical college candidates protest 'question leak'
Protests are being held over similar demands throughout the country, Bangla daily Prothom Alo reports.
HIGH COURT MOVED
The High Court has been moved seeking scrap of the medical and dental admission tests alleging the same.
Eunus Ali Akond, a Supreme Court lawyer, moved the writ today and prayed its order to form a judicial body to probe into the leak.
He also sought for action against the director general of department of health services and the director concerned in this regard.
Talking to The Daily Star, Akond said he collected a copy of a leaked question paper which is identical to the actual exam question paper.
The HC may hear on the writ petition later in the day, Akond said. "If the results are published, the meritorious candidates will be deprived".
BNP SUPPORTS PROTESTS
Terming the medical admission test "jaal Parikkha", BNP at a press conference today demanded cancelation of the test results and a retake of the test.
The party extended its support to the protesting medical admission seekers, BNP spokesperson Asaduzzaman Ripon said in the party's Nayapaltan headquarters.
He alleged that the arrested official of University Grants Commission (UGC) was also involved in the question paper leak. "If he is not involved in the question paper leak then why he got arrested?" he said.