Pest Attack on Boro in Gaibandha
Worried farmers seek remedy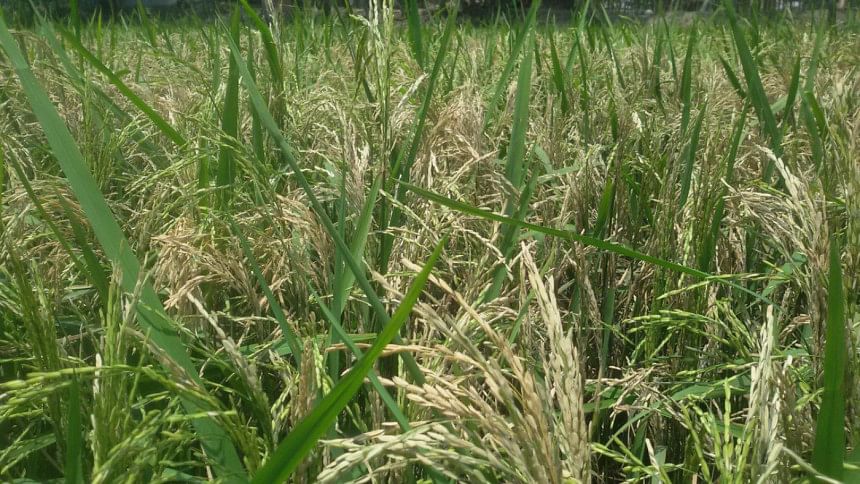 Pests and worms have attacked vast tracts of Boro crop fields in different areas of Sadullapur upazila, raising fears that it will adversely affect paddy production.
Worried farmers are going to pesticide shops and agriculture experts, seeking a remedy for pest attack, especially neck blast, which is gradually spreading to adjoining areas. Meanwhile, sections of paddy fields have turned white and subsequently dried up.
Farmers complained that no improvement is seen even after spraying of pesticide. Pest attack is continuing, and they are no agriculture experts nearby to advise them. Many of them are spreading ash to prevent pest attack.
Upazila Agriculture Officer (UAO) Khajanur Rahman said a total of 14,380 hectares of land have been brought under Boro cultivation in the upazila, but he could not say how much land was affected by pest attack.
"Boro-BR 28 paddy on my one bigha of land was attacked by pests. When I sprayed pesticide on it, the crop on the land turned white within a week," said Nasiruddin, a small farmer of Habibullahpur village.
"I will suffer loss as my one and a half bighas of Boro plants have been attacked by neck blast. I am expecting only a little production as I could not save the crop from the pest after spraying pesticide," said Abdul Baki Mandol of Mohishbandi village.
Faridul Mia of Collegepara said pests attacked fields almost everywhere this time, but farmers are not able to control it. Worried farmers are being cheated by dishonest pesticide vendors, who are selling ineffective pesticide, he added.
Farmers often spray low-priced contaminated pesticide, so the pest cannot be controlled, said Sub-Assistant Agriculture Officer Waliur Rahman, adding that many farmers sprayed an overdose of pesticides, which killed the green plants.
Climate change is also a reason for attack by pests and worms, the UAO said. Pesticides should be used at an early stage of pest attack in optimum doses, he said.