Work hard to push Bangladesh ahead, President asks students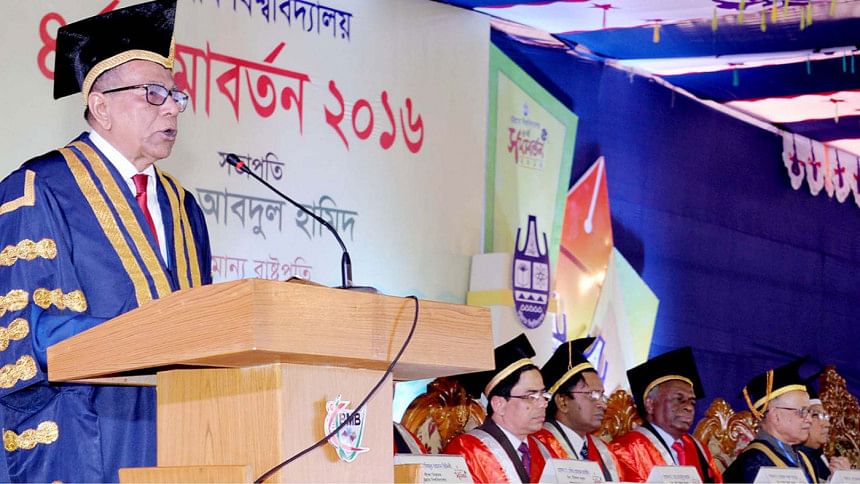 President Abdul Hamid today said there must be relentless efforts, self criticism and cooperation to turn Bangladesh into a middle income nation by 2021 and a developed nation by 2041.
"Bangladesh is advancing towards prosperity. Significant advancement has been made in education, women empowerment, per-capita income, sanitation, agriculture and information technology sectors. But social discipline and democratic values have to be upheld to continue the progress," he said.
The President made the statement while addressing the 4th Convocation of Chittagong University on its campus. At the convocation, a total of 7,194 students received degrees.
Abdul Hamid underscored the need for making united effort so that the hard-earned democracy was not hampered.
"The government has taken up programmes to turn Bangladesh into a middle income country by 2021 and a developed country by 2041. There must be continuous efforts, self-criticism and cooperation to implement these programmes. ..There must be duties and responsibilities," he added.
Mentioning that research is one of important parts of higher education as it creates new knowledge, the President, also the Chancellor of the university, said "We have to put continuous efforts to upgrade the standard of education to international level. We have to expand the research area too."
Congratulating the graduates for completing their university education successfully, the President said "Now you are graduates… higher human resources of the country."
He went on saying: "Today's convocation is giving recognition of your achievement and on the other hand, it is bestowing responsibilities on you and these responsibilities are towards your family, society, above all towards the country and nation."
University Grants Commission Chairman Prof Abdul Mannan and Chittagong University Vice-chancellor Dr Iftekhar Uddin Chowdhury spoke at the convocation while Professor Emeritus of Dhaka University Dr Anisuzzaman delivered the convocation speech.