Won't support any law against journalists' interests: Press Council chief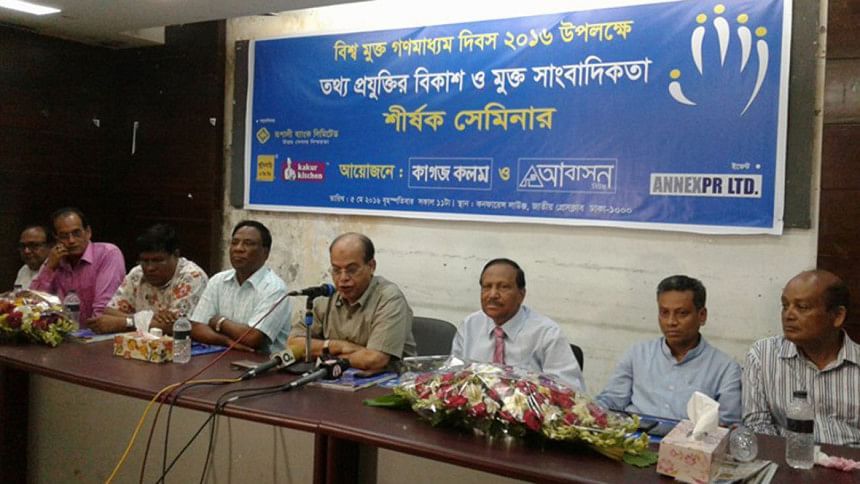 Chairman of Bangladesh Press Council today said he would not approve any law that goes against the interests of journalists.
"As long as I am here, I will not allow any law that goes against the interest of journalists," Justice Mohammed Mumtaz Uddin Ahmed said at a programme jointly organised by weekly newspaper Kagoj Kalam and Abasan News, marking the World Press Freedom Day at the Jatiya Press Club.
The press council has requested the law commission to recommend some amendments for making the present law more functional in favour of journalists so that no-one dares to violate the verdict of the council, he said.
Responding to the request, the law commission proposed a draft law with provision to suspend any newspaper or news agency for 30 days for violating the press council law, he added.       
Without supporting the idea, the Press Council members recommended that it would hold up the publication of any newspaper or service of any news agency for maximum one to three days if it violates the directives of the council, he said.  
The Press Council also proposed having a provision of fine ranging between Tk 1 to Tk 5 lakh for such offence, he said.
"The issue is now under discussion. We will scrap the provision if journalists want," he added.
During the discussion, a group of pro-Awami League journalist leaders warned that a tougher movement would be enforced if the new law affects journalists. 
Responding to the protest, the Press Council chairman said journalists will not need to go for any movement. "No such law that is unwanted by the journalists will be passed."
Taking part in the discussion, Iqbal Sobhan Chowdhury, media affairs adviser to the prime minister, said efforts are on in a bid to propose a modern Press Council Act and to strengthen it on the basis of recommendations from the journalists.