Wheat blast affects 15,500 hectares of land in 5 dists
Crop worth Tk 130 crore damaged as the disease appears first time in the SW region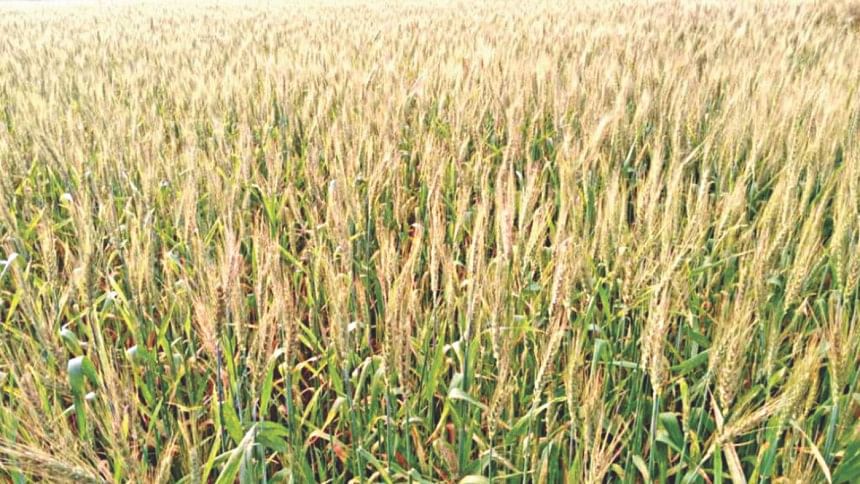 Around 15,500 hectares of wheat fields have been infected with blast disease in south-western districts of Kushtia, Meherpur, Chuadanga, Jhenidah and Jessore this season, said sources of Bangladesh Agricultural Development Corporation (BADC) and the Department of Agricultural Extension (DAE).
The infection, detected for the first time in wheat fields of the districts, damaged crop worth Tk 130 crore, they said.
Sources of DAE's divisional office in Jessore said farmers cultivated wheat on 13,875 hectares of land in Meherpur, 16,710 hectares in Kushtia, 10,320 hectares in Jhenidah, 5,810 hectares in Chuadanga, and 4,400 hectares in Jessore.
But the disease affected wheat fields on 9640 hectares in Meherpur, 2563 hectares in Chuadanga, 1500 hectares in Jessore, 840 hectares in Jhenidah, and 320 hectares in Kushtia.
The disease also affected 700 hectares of wheat field in southern district Barisal, said sources of DAE.
BADC and DAE officials have already burnt wheat plants on 875 hectares of land in four government owned farms in Meherpur, Chuadanga, Jhenidah and Jessore districts following instructions from the agricultural ministry on Friday and Saturday, said Nur Mohammad, general manager of BADC.
A team of researchers led by Paritosh Kumar Malaker, chief scientific officer of Wheat Research Centre in Dinajpur, visited several affected fields in Meherpur, Chuadanga and Jhenidah on February 24.
After pathogen tests the scientists confirmed the disease as wheat blast.
"The infection was caused by pyricularia grisea that might have grown due to unusual temperature fluctuation and continuous rain for days in the first week of February. It spread through air," said Paritosh Kumar Malaker, who has already submitted the report to the agriculture ministry.
Farmers of affected wheat fields said they at first noticed yellow and black spots on the leaves and sheaves of wheat.
Gradually, the spots spread on the whole plants, the sheaves and flowers turned yellow and white, and the plants dried up without producing any grain.
"I cultivated wheat on 16 bighas of land this year but got only one or two maunds of wheat against the expectation of 18-20 manuds per bigha as the blast disease affected the fields. Now I feel utterly helpless as my cultivation cost per bigha was Tk 6000-7000," said Bablu Mia of Ujalpur in Meherpur Sadar upazila.