WB funds Bangladesh $360m for improving inland waterways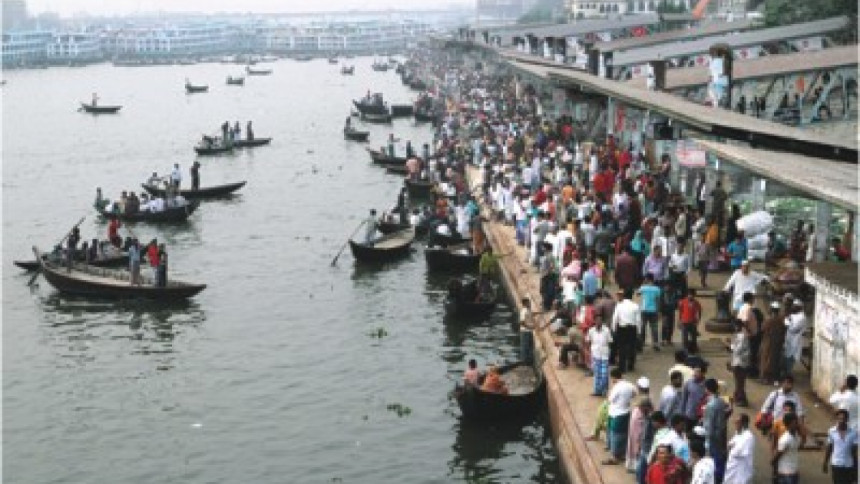 The World Bank has approved US$360 million to help Bangladesh improve the navigability, year-round safe transport for passengers and cargo along Bangladesh's busiest waterways.
The Bangladesh Regional Waterway Transport Project 1 will improve the navigability of 900 kilometres of inland waterways along Chittagong-Dhaka-Ashuganj corridor and connecting routes, which will help reduce travel time and cost for cargo, WB said in a press release yesterday.
The project will also help reduce cost for passenger transport and boost national and regional trade, the release added.
"Bangladesh can expand intra-regional trade with India, Bhutan and Nepal by improving connectivity through road, rail and inland waterways," said Qimiao Fan, country director for Bangladesh, Bhutan and Nepal of the global bank.
"As a riverine country, Bangladesh has a large inland water transport sector, which, if strengthened, can support the needs of its growing export-oriented economy. This project will modernise and improve the multimodal transport and logistics system in the country and with its neighbors."
The project will build one new general cargo terminal at Pangaon and improve the existing cargo terminal at Ashuganj. It will also build new and rehabilitate existing passenger terminals at Sadarghat, Narayanganj, Chandpur, and Barisal.
To help the poor population living in remote areas, the project will construct 14 landing Ghats/stations in Chars (shoals), where often waterways are the only mode of transportation.  The terminals and landing stations will be built to improve the security, safety, and sanitation conditions, and incorporate the needs of female users, the elderly, and small traders, such as women-only toilets and waiting rooms, according to the press release.
The project is part of a Regional Connectivity and Integration Program supported by the WB for the Bangladesh-Bhutan-India-Nepal (BBIN) countries. The project will also help build the capacity of the Bangladesh Inland Water Transport Authority (BIWTA) to ensure modern and efficient management that matches international standards. It will also aim to achieve long-term operational and financial sustainability.
"High transport costs, low efficiency and delays in the logistics chain increase trade costs and reduce the competitiveness of Bangladesh's products", said Diep Nguyen-van Houtte, World Bank Team Leader for the project.
"By improving riverine connectivity, the project will make movement easier for traders, producers, passengers and cargo on multimodal transport networks in the sub-region, and help the poorest who rely on inland waterways as a mode of transport."
The credit from the WB's International Development Association, which provides grants or zero to low interest loans, has a 38-year term, including a six-year grace period, and a service charge of 0.75 percent.