Waterlogging hits Aman paddy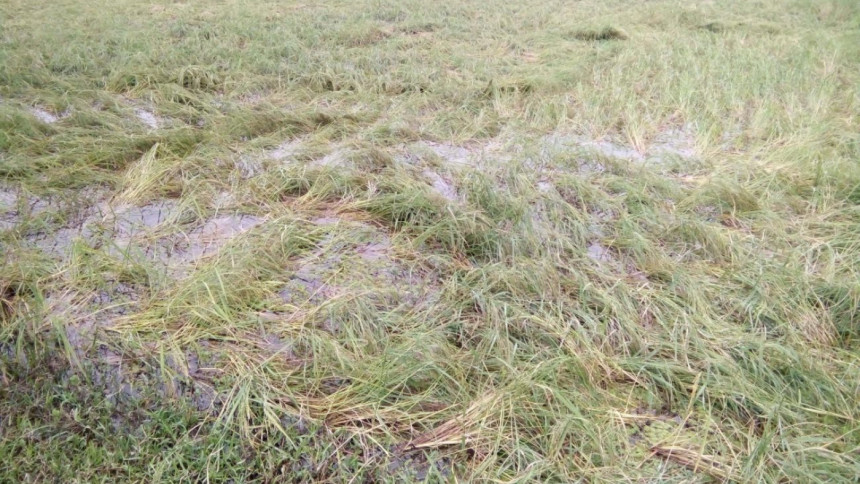 Most of the Aman paddy fields in Rajapur upazila under the district have been badly affected by waterlogging caused by the continuous rain from Friday to Monday and blocking of canals.
Rainwater cannot flow into the river easily as the canals linked to the paddy fields have been blocked by land grabbers, many farmers of Rajapur upazila said.
Aman paddy is planted in September and harvested in December and January, they said.
The land becomes waterlogged even after a little rain due to grabbing of the canals, said Mainul Hossen, a farmer of Dakkhin Rajapur village.
The scene was different five years ago when the canals near the paddy fields were open and rainwater flowed into the river quickly, he added.
Around ten small canals crossed the vast paddy field a decade ago but now they have dried up due to siltation and grabbing, said Liton Howlader, a farmer of Protap village in Nalchhity upazila.
He may suffer loss of around Tk 10,000 as the crop has been affected by waterlogging, added Liton. 
There are 230 canals in the district according to the district agriculture office, but most of them have been destroyed.
"Aman paddy will not be affected if the rainwater does not remain for a long time, so all the canals should be kept open for good drainage of agricultural land," said Sheikh Abu Bakar Siddik, deputy director of the district Department of Agriculture Extension.    
"We have started recovering the canals in the city areas and will recover all of them in the district as soon as possible," said Deputy Commissioner Md Hamidul Haque.