War crimes: Taher, Nani razakars get death penalty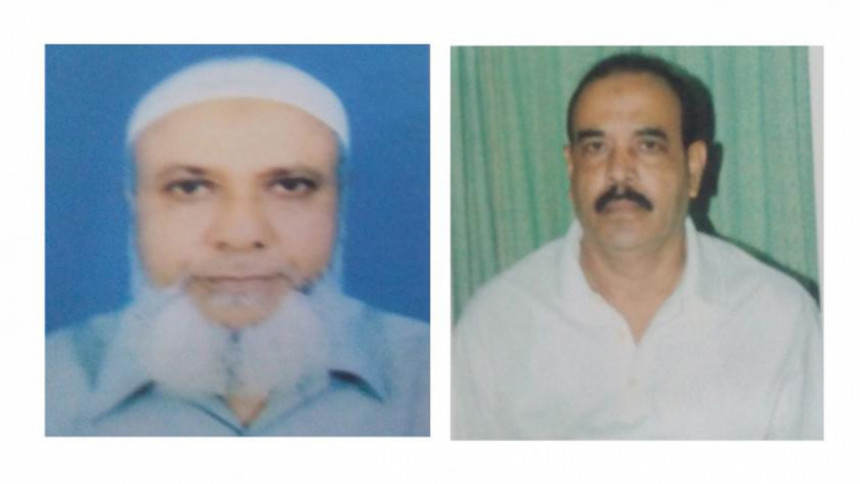 A special tribunal in Dhaka today handed death penalty to Obaidul Haque Taher and Ataur Rahman Nani of Netrakona for committing crimes against humanity during the Liberation War in 1971.
Four out of six charges pressed against them have been proved against the two, Justice Anwarul Haque of International Crimes Tribunal-1 announced while pronouncing the verdict.
The government will decide whether they will be executed by hanging or shooting, the tribunal said.
According to the one of the two charges that earned Taher, 66, and Nani, 62, death penalty, they accompanied by other razakars and the Pakistan army attacked Laufa village under Barhatta Police Station around 2:30pm on October 19, 1971, and detained 10 people. Seven of the detainees were later shot dead while one survived with bullet injuries and two were freed. The razakars also raped women there.
The other charge says the duo along with other razakars detained seven people including Badiuzzaman Mukto, an organiser of Liberation War, at Birampur Bazar between November 15 and 16 and shot all but one dead.
Taher and Nani were given imprisonment until death for looting valuables from 400-450 shops and 20-25 houses of the Hindus at Baushi Bazar under Barhatta Police Station on August 17, 1971, and for shooting one Fazlur to death.  They also picked up footballer Dabir Hossain on October 4, 1971 and tortured him to death.
The International Crimes Tribunal-1 started reading out the 268-page verdict at 10:34am after they were produced before the court.
Earlier, a prison van carrying Taher and Nani reached the court premises from Dhaka Central Jail around 9:15am. The tribunal on March 2 last year framed six charges against the two. Twenty-three prosecution witnesses testified against them.
This is the first verdict after the ICT-1 was reconstituted on September 15 last year.
Reaction
Expressing disappointment over the verdict, Defence counsel Gazi M H Tamim said "We will challenge the verdict with the Supreme Court and hope our clients will be proved not guilty and be acquitted."
Meanwhile, Prosecutor Mukhlesur Rahman Badal said they were happy with the verdict.