War crimes: SQ Chy, Mojaheed's full verdict released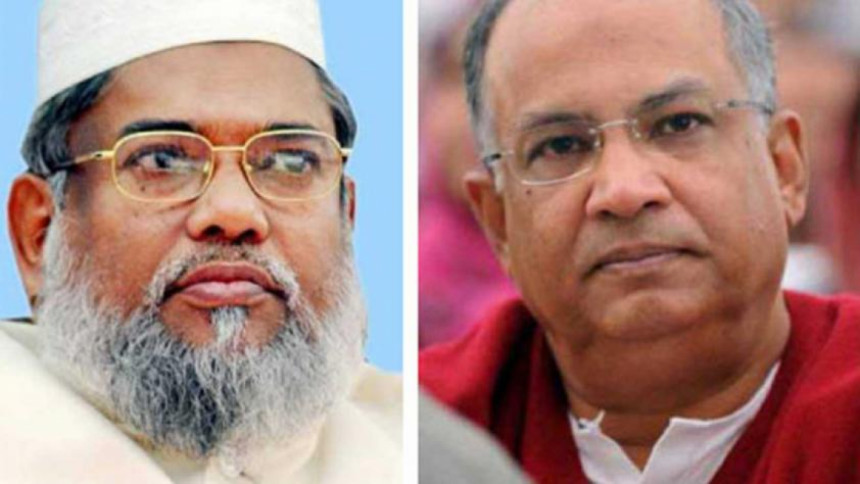 The Supreme Court today released its full verdict upholding death for BNP leader Salauddin Quader Chowdhury and Jamaat-e-Islami leader Ali Ahsan Mohammad Mojaheed.
Supreme Court's Additional Registrar Sabbir Foez told The Daily Star that officials will send the full judgments to the International Crimes Tribunal later in the day.
After receiving the copy of full verdict, the tribunal will issue death warrant for the condemned convicts according to the normal process – which will initiate process for execution.
However, the convicts can seek review of the apex court verdict within the next 15 days.
The ICT-2 on July 17, 2013 found the Jamaat secretary general guilty of five out of seven charges brought against him. The tribunal sentenced him to death on three charges, jailed him for life in one and sentenced him to five years in prison on another charge.
The convicted war criminal filed the appeal with the SC on August 12 on the same year seeking acquittal of all the charges.
The Appellate Division of the SC on June 16 this year upheld the death penalty delivered by the International Crimes Tribunal-2 for his crimes against humanity during the country's Liberation War.
On October 1, 2013, the ICT-1 found the 65-year-old Salauddin guilty on nine of 23 charges of crimes against humanity and genocide committed during the country's Liberation War in 1971.
BNP leader Salauddin on October 29, 2013 appealed to the SC against a tribunal verdict that sentenced him to death for war crimes.
The apex court on July 29 this year upheld ICT-1 verdict that sentenced capital punishment to Salauddin for his war crime offences.