War crimes: SQ Chy's wife challenges trial of individuals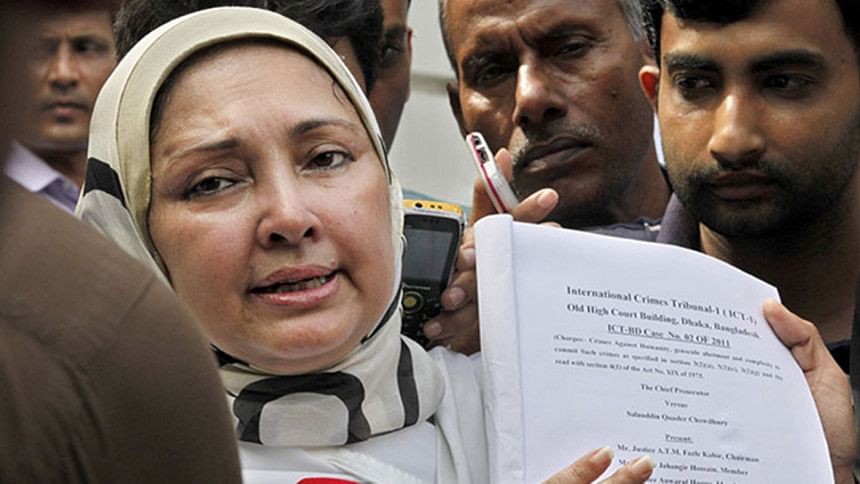 Condemned war criminal Salauddin Quader Chowdhury's wife today challenged the constitutional provision that allowed trial of individuals for crimes against humanity during country's Liberation War. 
Farhat Quader Chowdhury challenged the legality of the provision of the 15th amendment to the Constitution filing a writ petition with the High Court, Attorney General Mahbubey Alam told The Daily Star.
He said the constitution had earlier allowed the trial of group of individuals for committing such crimes against humanity, but 15th amendment has been brought to the charter allowing the individual people for the war time offences.
In the petition, Farhat also challenged the legality of the appointments of the first three judges of the International Crimes Tribunal, who were involved with the trial proceedings of Salauddin.
The three were High Court judges Justice Md Nizamul Huq and Justice ATM Fazle Kabir, and former district judge AKM Zaheer Ahmed.
The government appointed them through issuing a gazette notification on March 25, 2010.
Justice Nizamul Huq is now working as a High Court judge, Justice ATM Fazle Kabir has been appointed as member of Bangladesh Law Commission after his retirement as HC judge and Zaheer Ahmed has retired.
The attorney general said Farhat Quader Chowdhury prayed to the HC to declare the constitutional provision and appointment of three ICT judges illegal and unconstitutional. 
He said the writ petition was filed in order to make the trial and conviction of Salauddin questionable.
The lawyer said he would oppose the petition before the HC during its hearing.
Huzzatul Islam, a lawyer for Salauddin, told this correspondent that they would move the writ petition before the HC for hearing next week.
The Appellate Division of the Supreme Court on July 29 upheld the International Crimes Tribunal verdict that sentenced Salauddin to death for committing crimes against humanity in 1971.