War crimes: Quasem seeks deferral of review hearing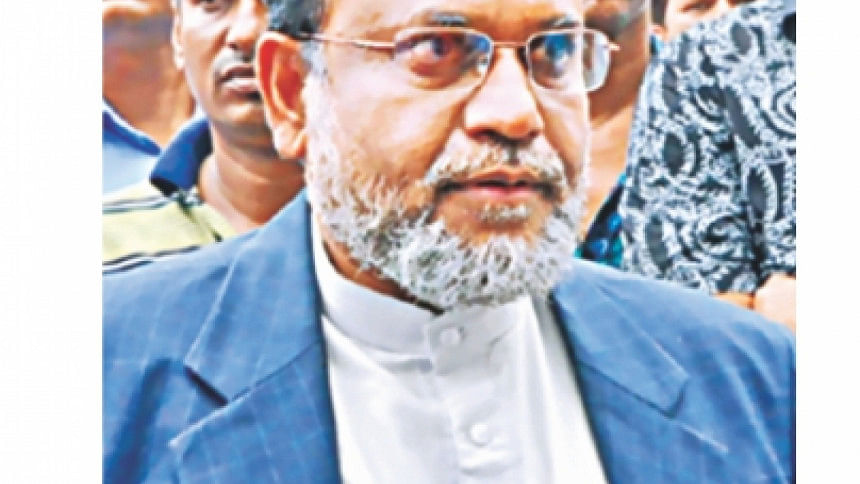 Convicted war criminal Mir Quasem Ali today filed a petition with the Supreme Court seeking two-month deferment on his review hearing against the judgement that upheld his death penalty.
The Appellate Division of the Supreme Court is scheduled to start the review petition tomorrow.
Mir Ahmmad Bin Quasem, son of Quasem, told The Daily Star his father submitted the petition seeking more time.
Khandker Mahbub Hossain, principal lawyer for Quasem, in the petition said that he needs two months time for preparing arguments on the review petition.
On June 21, the apex court fixed July 25 for the hearing of the petition seeking review of its judgement.
On June 19, Quasem submitted the petition to the apex court through his lawyers seeking review of its verdict that had upheld his death penalty for crimes committed by him during the country's Liberation War in 1971.
In the petition, the Jamaat-e-Islami leader prayed to the SC to acquit him of all seven charges on which he was found guilty.
The International Crimes Tribunal on June 6 issued a death warrant for Quasem Ali hours after the SC had released the full text of its verdict upholding his death penalty.
On November 2, 2014, the ICT-2 handed down capital punishment on 63-year-old Quasem, chief of Chittagong Al-Badr force, for committing crimes against humanity in 1971.
On March 8 this year, the Appellate Division upheld the ICT-2 verdict.
Quasem is considered by many as the main financier of the anti-liberation party. He allegedly paid $25 million to an American lobbyist firm to carry out a smear campaign to make the war crimes trial controversial, the then law minister Shafique Ahmed told parliament on April 28, 2013.
The death row war criminal was shifted to the Dhaka Central Jail from Kashimpur prison of Gazipur on June 20.