War crimes: 2 Moulvibazar 'Razakars' held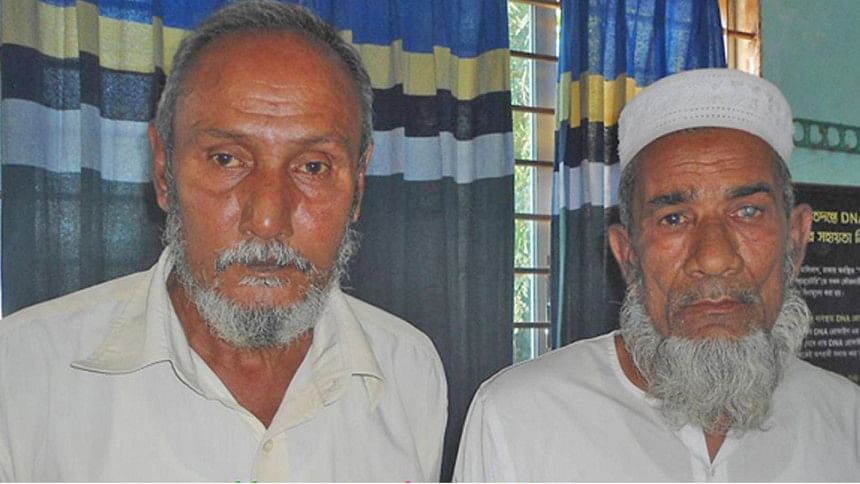 Police today arrested two war crimes accused from Moulvibazar hours after International Crimes Tribunal-1 issued arrest warrant for three alleged Razakars, who were involved in crimes committed during the Liberation War in 1971.
The arrestees are: Abdul Aziz alias Habul, 63, of Pakhiala village and Abdul Mannan, 64, of Taradaram village in Barlekha upazila of Moulvibazar.
The two were arrested from two separate places of the upazila around 3:45pm after police received documents of their arrest warrant, Md Moniruzzaman, officer-in-charge of the district's local police station, told The Daily Star.
"We are trying to arrest the other accused," the OC said.
Earlier in the day, the tribunal issued the arrest warrant following a prosecution petition.
Prosecutor Sabina Yasmin Munni told the tribunal that the investigation officer of the case started probe into the case on October 16, 2014 and already found "evidence" over their involvement in crimes committed in 1971 war.
The accused are influential persons in their locality and they are "intimidating" probable witnesses of the prosecution. Besides, they may go into hiding. So, the accused need to be arrested and kept in jail for "proper and effective investigation," she added.
Shahjahan Kabir, the investigation officer of the case, said the accused were involved with Razakar Bahini, an auxiliary force of the Pakistani army during the war. He has already got evidence over their involvement in at least two incidents of crimes involving rape, arson, torture in Barlekha upazila in 1971.