Voting begins in UP polls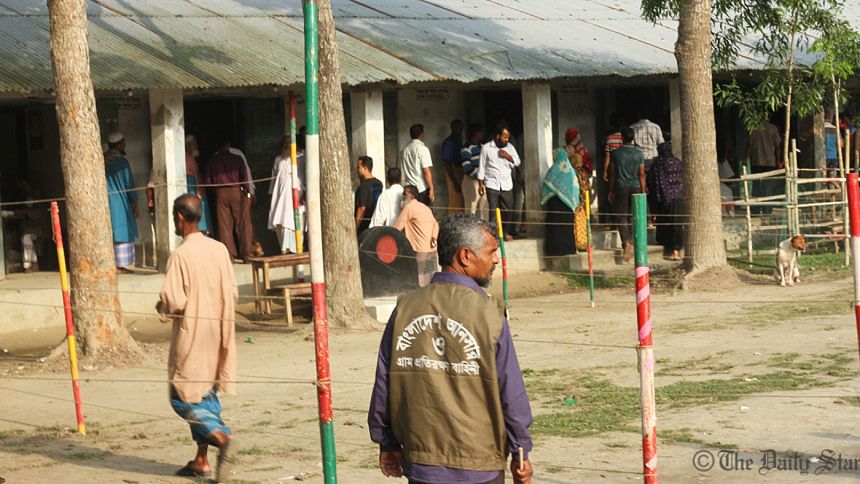 The first phase of the Union Parishad (UP) elections has begun, marking the start of the country's maiden UP-level polls on partisan lines.
Voting in 732 UPs started at 8:00am today and will continue till 4:00pm without any break.
Voters are seen marching towards the polling stations to franchise their votes.
Over 1.19 crore voters will be eligible to exercise their franchise under nearly 6987 polling stations.
A total of 3043 candidates for chairman posts are in the election race, in addition to 7575 women candidates for reserved seats and over 25,000 contenders for member posts in the first phase.
More than 1,80,000 security members -- police, Rab, BGB, Coast Guard and Ansar-- remain deployed in election areas to take necessary security measures so that every voter can exercise their voting rights spontaneously without any fear.
A monitoring cell, headed by the UNO has been formed in each upazila to monitor overall election situation.
A total of five magistrates - four executive and one judicial magistrate- remain deployed in each upazila to curb violation of the election code of conduct.
In the second phase, elections in around 643 UPs will be held on March 31 and in around 681 UPs on April 23 in the third phase and around 2,200 more UPs will go to polls in three other phases till June.
After municipal elections, this is the maiden UP-level battle of the ballots between the two major political parties – ruling Awami League and BNP – since the 2008 general elections.
BNP, which boycotted the last general election in January 2014 and faced a huge defeat in municipal elections last year, fears harassment of its party men and rigging by the ruling party men.