3rd phase of UP polls: Voting ends peacefully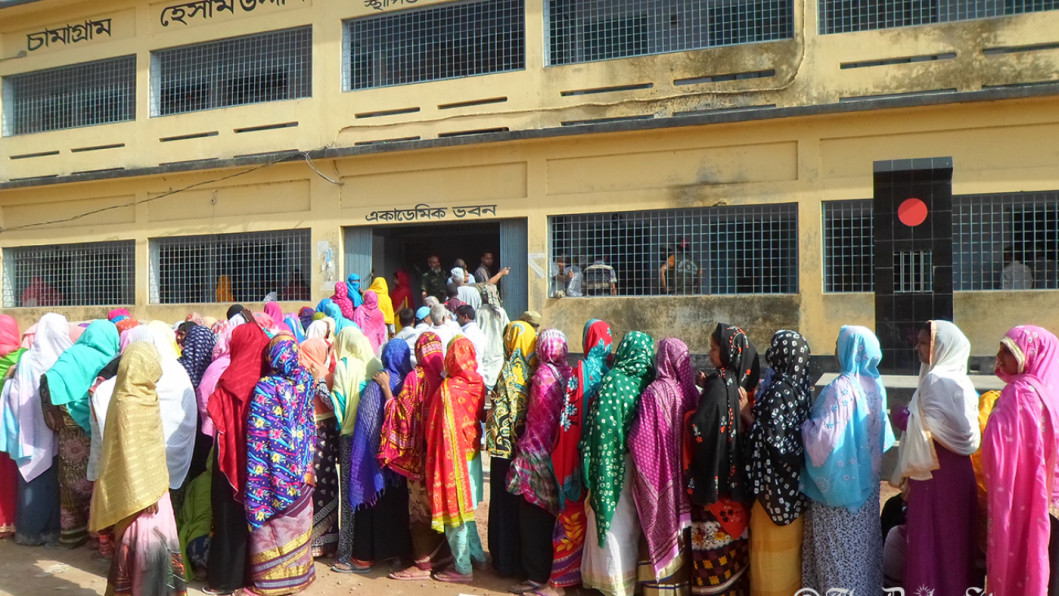 Voting in the third phase of the union parishad elections ended peacefully in 620 unions of 46 districts.
The voting began at 8:00am and will continue till 4:00pm without any break.
Voters were seen exercising their voting rights with enthusiasm at the polling stations.
Fourteen registered political parties, out of 40, are participating in the polls, and the number of chairman aspirants is 2,672.
The ongoing UP polls have generated much heat in the political landscape as both the AL and its arch-foe BNP have stepped in the battle of ballots.
The parties have picked their grassroots leaders to compete for chairman posts with their party's electoral symbols -- "boat" and "sheaf of paddy".
Elections to 725 UPs were held on March 22 in the first phase and 639 UPs on March 31 in the second phase. Polls to 743 UPs are slated for May 7 in the fourth phase and 733 on May 28 in the fifth phase. Around 700 more UPs will go to polls in the sixth phase in June, according to EC officials.
At least 40 people were killed, including 18 in voting days, and several hundred others were injured in violence over UP polls.
In the first and second phases, poling was largely marred by electoral irregularities and incidents of clashes between supporters of rival candidates that prompted the EC to suspend voting to around 100 polling stations. It drew huge criticism from the media, civil society members and a cross-section of people.
In today's polls, AL-nominated 25 candidates have been elected unopposed, while the BNP has no candidate in 61 UPs, according to EC statistics.
Elections to 1,364 UPs were held in the last two phases. In the polls, the AL candidates secured a landslide victory by winning in 991 UPs. Eighty-five of them were elected uncontested.
On the other hand, the BNP-nominated chairman candidates won in 109 UPs, while independent and other political parties' aspirants became successful in rest of the unions, according to the EC and the media.