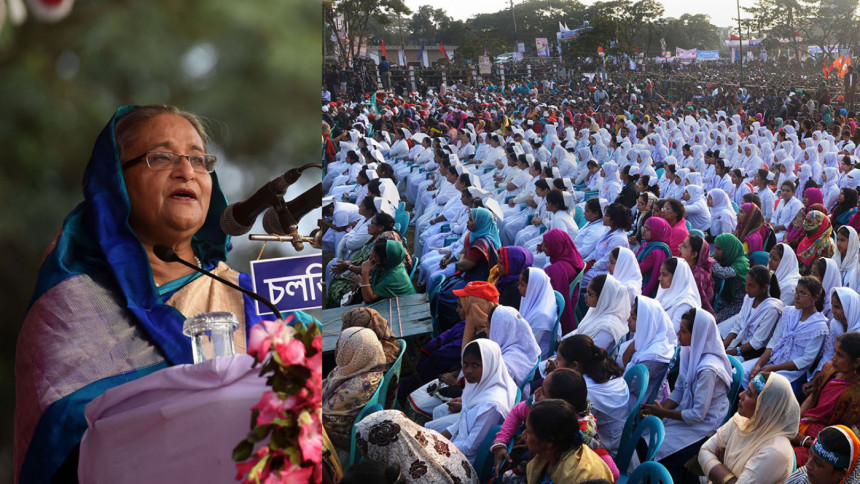 Prime Minister Sheikh Hasina today said there is no need to raise any demand before her as she knows the problems of the country's people and also knows how to deal with those.
"I know very well what the problems of our countrymen are and also know well on how to deal with those and develop the country…we're working to that end," she said.
Sheikh Hasina, also president of the ruling Awami League, said this while addressing a mammoth public rally at the historic Alia Madrasah Ground in Sylhet.
The premier called upon the people not to forget 'boat', the election symbol of Awami League, in the coming days as it has continued to ensure peace, prosperity and development of the country.
"Hope, you'll surely keep confidence in us (AL) because we've got independence through casting votes in favour of 'boat' and it also ensured development. Please don't forget about 'boat' during vote in the coming days ...boat will ensure peace, prosperity, development and your economic emancipation," she said.
Prior to addressing the rally, the prime minister inaugurated and laid the foundation stones of 22 development projects from the same venue.
Terming Awami League as an organisation that belongs to common people, Hasina said the country witnessed massive development whenever the party assumed office as it brought the country's independence.
"But, those who had grabbed power looted everything, created militancy and unleashed terrorism. But, there'll be no place for them. Bangladesh is moving ahead and will continue to move…we'll establish Bangladesh as a prosperous and developed country," she told the rally.