Plane crash probe might take a year: CAAB
No progress visible progress of probe body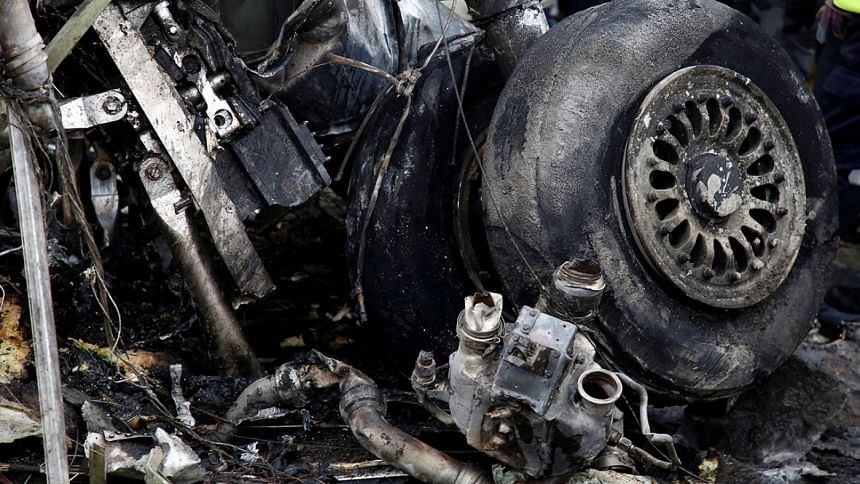 The investigation into the crash of US-Bangla Airlines plane last Monday, that killed at least 51 so far, might take a year to complete, Civil Aviation Authority of Bangladesh (CAAB) said today.
"Completing the investigation of such air accidents may take a year or even more," CAAB Chairman Air Vice Marshal M Naim Hassan told reporters at his office.
The identification process of the deceased is underway and the bodies will be brought back to the country as soon as possible, the CAAB chairman added.
A US-Bangla Airlines Bombardier Dash 8 Q-400 with 71 people onboard slammed on an empty field and burst into flames at the Tribhuvan International Airport in Kathmundu, Nepal, on Monday.
At least 51 people, including 28 Bangladeshis, died.
Bangladesh declared national mourning today. The flag is being hoisted half-mast at government offices, educational institutions, and diplomatic missions across the world.
Special prayers will be offered at religious institutions and places of worships tomorrow.
Meanwhile, a Bangladeshi medical team has been flown to Nepal for assisting in the healthcare of US-Bangla Airlines plane crash survivors.
Meanwhile, US-Bangla Airlines has closed its flight operations between Dhaka and Kathmandu for indefinite period.
No progress visible progress of probe body
Yagya Prasad Gautam, chief of the investigation committee formed by Nepal, said there is no visible progress in the investigation into the plane crash.
"We visited the crash site to collect evidences," said the former director general at the CAAN.
On March 13, a six-member inquiry team of Civil Aviation Authority of Nepal (CAAN), headed by Gautam started the investigation into the US-Bangla plane crash that left 51 people dead so far.