Unite to establish democracy, Bangabandhu's ideology: Dr Kamal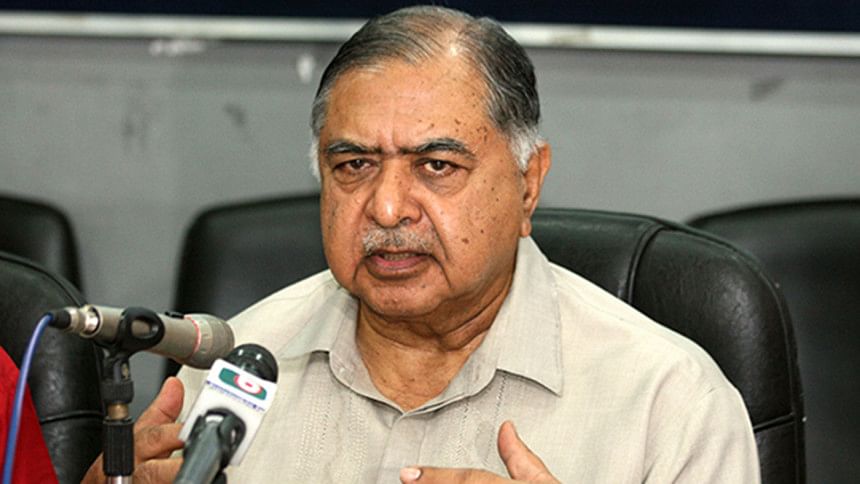 Eminent jurist Dr Kamal Hossain today urged the people to get united against terrorism, extortion, corruption, money laundering, looting and grabbing in order to establish democracy, and ideology of Bangabandhu.
"Those who are involved in unjust activities including corruption, money laundering, terrorism, extortion and land grabbing are against Bangabandhu, independence and Liberation War of the country."
"Their number is very few. Let's get united to resist them," he said while presiding over a meeting on the occasion of National Mourning Day organised by Gano Forum at the Jatiya Press Club in Dhaka.
Kamal Hossain, a framer of the constitution and president of Gano Forum, said Bangabandhu Sheikh Mujibur Rahman, who had made the people owner of the country, would never indulge in misuse of power, extortion, terrorism, corruption, money laundering and land grabbing.
Bangabandhu had tried to remove economic discriminations, exploitation and deprivation from the society, the eminent jurist said, adding that Bangabandhu had fought in an uncompromising manner to protect the peoples' rights.
He said though Bangabandhu had many risks in his life, he never was afraid of any threat, as he loved the people of Bangladesh from the core of his heart.
Bangabandhu could unite the people that was his great success, the veteran lawyer said, adding that if people unite now, the defeated force cannot do any harm to them.
"My best degree is that I was an activist of Bangabandhu. His ideology needs to be reached to the mass people," Dr Kamal added.
Gano Forum leaders Mostafa Mohsin Montu, Mafizul Islam Khan Kamal, Subrata Chowdhury and Jagul Haider Africk, among others, spoke at the meeting.