Earthquake: 50 hurt, 4 buildings tilt in Ctg
People in different parts of Bangladesh complain disruption in mobile phone communication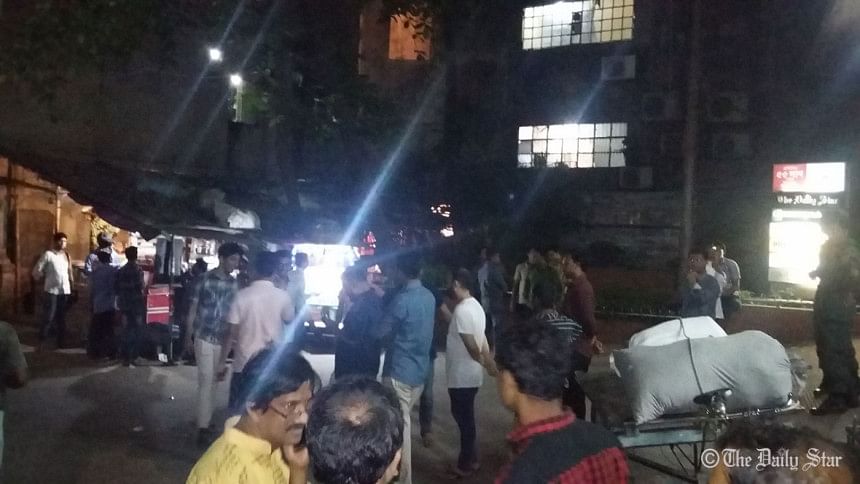 At least 50 people were injured while rushing out of RMG factories in EPZ and Oxygen areas and four buildings tilted in Chittagong city after a 6.9 magnitude earthquake struck Myanmar this evening.
Ten people were injured in Oxygen and the rest in EPZ area of the port city while getting out of garment factories in panicky, Md Jahangir, officer-in-charge of Chittagong Medical College Hospital police camp, and Abul Kalam Azad, EPZ police, told The Daily Star.
All the victims are now taking treatment at the hospital, the police official said.
Meanwhile, a five-storey building in GEC intersection, a six-storey building in Chandgaon, a building in Jubilee Road and one in Darul Fazal Marker area were tilted in the jolting in the Chittagong city, fire service sources said.
Details on the incidents were not available when this report was filed around 11:00pm.
The tremor jolted different parts of the country.
According to US Geological Survey, the epicentre was 74 kilometres southeast of Mawlaik in Myanmar.
The quake struck at a depth of 135km, it said.
People in Dhaka felt the tremor at 7:55pm.
When contacted, Abul Kalam Mollick, a meteorologist at Met office in Dhaka, could not say exactly the intensity of the earthquake in Bangladesh.
After the tremor, people experienced difficulty while trying to reach their near ones over mobile phone.
Many people reported that they did not have any network for "quite some time" after the earthquake.
Our reporters from different districts reported that panic gripped people after the earthquake.
Cellphone network was disrupted for several minutes immediate after the impact and many people were seen failing to contact their friends and families over phones.
Shahadat Hossain, a reporter of private television channel Maasranga, said he did not try to get down of his office as it was on the eighth floor.
He said he never felt such strong shake in his life.