Toys-R-Yours celebrates grand opening of 2017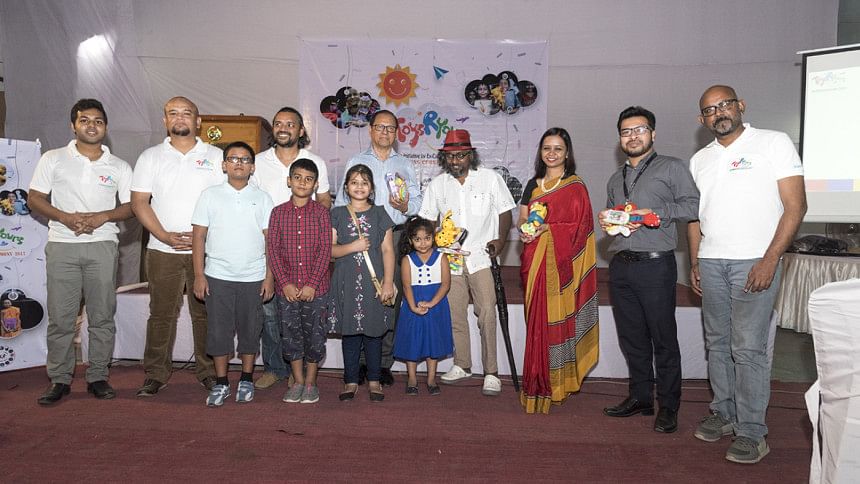 Toys-R-Yours, a platform of Ex-cadets forum, celebrated their grand opening ceremony at Cadet College Club premises with colours and festivity recently.
Toys-R-Yours (in short TRY) project collects used toys and books through different channels – corporate campaign, school campaign, individual collection from the wealthy group of citizens of Bangladesh. The collected toys and books are then sorted out, cleaned and repaired and distributed to the underprivileged children who can't afford to buy them – a vital tool for mental growth and joy at this age.
This unique initiative has already drawn much appreciation.
The grand opening ceremony was held on March 16, 2017 with celebrity filmmaker Amitabh Reza Chowdhury along with other notable personalities and members of Ex-cadets Forum present there.
Besides, star players of Bangladesh Cricket Team-- Mushfiqur Rahim, Taskin Ahmed, Nasir Hossain, NishatMazumder- the first Bangladeshi woman to conquer Mount Everest, eminent singer and actor Tahsan Khan, singer Samina Chowdhury,Ayub Bacchu, Band team 'Shironamhin',  model and actress Jannatu lPeya, actress Urmila Srabanti Kor have pledged to be with this campaign.
This year, Toys-R-Yours is going to start their campaign for the third consecutive year to spread joy among under-privileged children across the country.
Fida Haq, head of ECF social responsibility team says, "We, ex-cadets have undertaken this initiative out of the accountability we feel towards the society. Many institutions have done notable works with food and education of underprivileged children, but the facts of emotional development haven't much come into light. We are conducting this project having that thought in mind,"
Interested persons can also be a part of this initiative by donating their used toys and old books to this project. Collection of toys and books is going at different drop-off points. For detailed information, visit their facebook page at https://www.facebook.com/Toysryoursecf/ or call at their hotline number: 01990555666.