Teesta chars turn green
Many landless farmers producing crops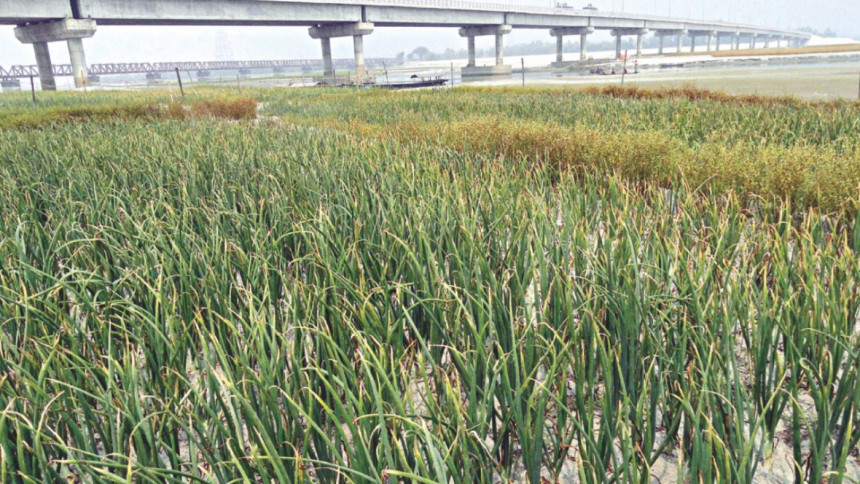 Char areas of the Teesta river are covered in green now as vast tracts of the dried-up riverbeds have been turned into crop fields by the landless char people who have been cultivating various crops there in recent years.
Char farmers are happy as the chars, deposits of alluvial silt, have given them the opportunity to cultivate various crops and vegetables.
According to sources in the Department of Agriculture Extension (DAE) and NGOs working in the char areas, over 25,000 hectares of dried-up riverbeds could be used to cultivate vegetables, wheat, maize, mustard, boro and other crops this season.
"Crop cultivation on these lands has been taking place as the drying up of the rivers has led to the emergence of massive silt deposits," said Lalmonirhat Sadar Upazila Agriculture Officer Enamul Haque.
Nurul Islam, 55, of Gokunda village in Lalmonirhat Sadar said, "I do not own land, but I have cultivated vegetables on one bigha of dried-up Teesta river bed in the area. I got bumper production of vegetables from abandoned char land last year," he said, adding that many landless char people like him have got an opportunity to cultivate different crops on dried-up river beds this year.
"My ten bighas of char lands were abandoned for years in the past, but those have been giving me different crops for the last three years," said farmer Meher Ali, 60, of Kalmati char village.
Azziul Islam, 62, a landless farmer of Char Teesta village, said they have been growing onion, garlic, maize, boro paddy, wheat and different vegetables in the abandoned char areas, and they are getting expected production. "Agriculture officials and NGO staff give us support for farming crops on char land," he added.
Deputy Director of DAE in Lalmonirhat Bidubhuson Roy said the dried-up riverbeds in certain areas have an eye-catching greenish look, and the char lands now contain more alluvial sediments as a result of the last monsoon, which has encouraged farmers to cultivate different crops.