2 die of dengue in Chattogram, Barishal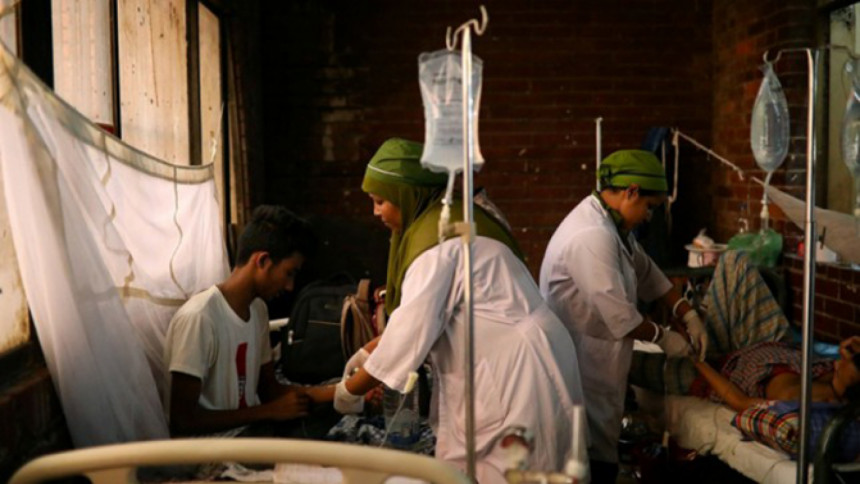 Two more people, a teenage girl and a woman died after suffering from dengue fever in Barishal and Chattogram today.
In Chattogram, the woman, Daw Mya Ching, 35, wife of Uhla Ching, hailing from Ruma in Bandarban, died at a private hospital in the port city early today, our staff correspondent reports quoting doctors.
Daw was admitted to Centre for Specialised Care & Research (CSCR) with fever of four days on September 10, said Dr Nahid Hassan, resident medical officer of CSCR, adding, she was diagnosed with dengue in Bandarban and took treatment in a hospital in the district initially before admitted to CSCR.
She developed complications of dengue with turning into dengue hemorrhagic syndrome on Wednesday and was shifted to ICU, said Dr Nahid adding that the patient died around 4:00am today.
In Barishal, a teenage dengue patient died while undergoing treatment at the Sher-e-Bangla Medical College Hospital (SBMCH) this morning, reports UNB.
The deceased was identified as Suraiya, 14, a resident of Barguna's Patharghata upazila, the news agency said.
SBMCH Director Bakir Hossain said Suraiya was hospitalised on Wednesday morning with dengue fever.
"She died around 8:00am today," he said.
Although the number of new dengue cases is declining, reports of deaths related to the mosquito-borne disease continue to come in.
At least six dengue-related deaths were reported between Tuesday night and Wednesday night.
In 24 hours until Wednesday morning, 634 new dengue patients were admitted to hospitals. The number was 753 on Tuesday.
Since January, 78,617 people had been hospitalised with dengue and 75,225 of them made full recovery. At present, more than 3,100 patients are being treated at hospitals.
Since the beginning of this year, the Institute of Epidemiology, Disease Control and Research (IEDCR) received information about 197 dengue-related deaths. It has so far reviewed 101 cases and confirmed 60 dengue deaths.