Tangail villages set laudable example of organic farming
Grown with natural fertilisers, the chemical-free vegetables earn better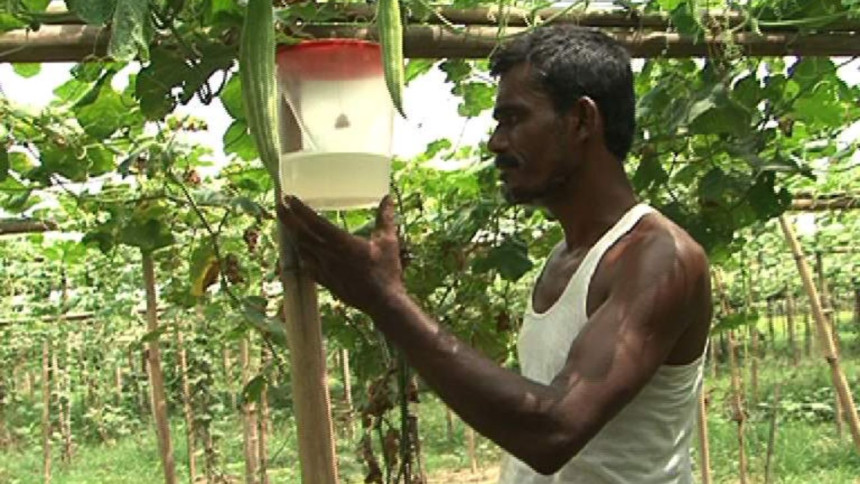 The whole country is now focused on growing more and more vegetables. There are some specific regions for cultivating vegetables. For example, Dainnya and Krishnapur in Tangail Sadar are famous for growing vegetables.
The most encouraging thing is that not only has the region successfully produced vegetables, it has also ensured organic vegetable production. Pesticides are rarely used in these regions. Farmers depend on organic fertilizer and care a lot about the soil's health. They are also aware about food safety.
People call the villages 'organic villages.' Some also call them 'pest-free food village.'
A few days back I went to visit these villages. Farmer Abdul Karim is famous for organic farming. He cultivates organic vegetables on two bighas of land. He takes great care to ensure that his vegetables are pesticide-free and healthy for consumers.
Kabir, another farmer, has been engaged with farming for the past three decades. He has been making good profit since he converted to organic farming.
In the past, farmers used to cultivate paddy, but the low profits made them look for an alternative. They found that vegetable was the most profitable crop, and the entire region started cultivating it and became successful. Their success was possible as they grew the vegetables organically.
One of the pioneer farmers is Nazim Uddin, who cultivates vegetables on 10 bighas. In winter he increases the area for cultivation up to 20 bighas.
"I believe if you want to see a sustainable farming sector, you need to go for organic farming and most advanced technologies," says Nazim.
Usum Uddin has cultivated kachu (arum), and he's making good profit.
There are hundreds of successful agro entrepreneurs in these villages who have done extremely well in organic farming, and they are spreading this message across the region.
Positively, more female farmers are also getting involved. They are working with more confidence, belief and self-esteem since the organic farming system has given them profit and also honour. The strong bondage between farmers and the real impetus behind the strength of the farmers is a cooperative system, which is truly a great mechanism that can be applied all across the country.
Definitely this is a change -- an entirely different story that's shaping the farming story of Tangail region.
"People are now more conscious. They have added vegetables and fruits to their food menu," says farmer Abul Hossain.
It reminds me of the campaigning I did on TV about organic pest control technologies and also about organic farming. The Grow Green initiative has been a pioneer in delivering the message of organic food production, soil health and food safety.
The farmers of Dainnya and Krishnapur now use sex pheromone trap, trichogramma, and bracon hebetor.
"I watched your show where you described the organic pest control methods. It really helped me a lot," Abul Hossain told me. It truly gave me much pleasure.
However, I sincerely thank the Department of Agriculture Extension (DAE) for helping the farmers with these technologies at field level.
Young entrepreneur Hafizur has a diploma in engineering. But he also does farming and is now earning Tk 30 to 40 thousand every month. This really is encouraging the unemployed to go for organic farming. They are also using bagging technology to get rid of pests in cultivating pumpkins. By doing this they are getting quality produce and also good money for their products.
Dear readers, in recent times, bagging technology has become quite popular. It protects the produce from pest attack. I have demonstrated on TV the use of bagging technology on mango, guava and other fruits and crops.
I was really impressed with an SAAO in Dainnya Bazar, who sits with the farmers two days a week. Mobarak Ali is contributing a lot in the development of the farming sector of Bangladesh. Officers like him across the country would definitely change the scenario for the better. 
Dear readers, farmers have started organic farming in many villages. Dainnya and Krishnapur of Tangail are two great examples. We believe success stories from these villages will also inspire farmers around the country. Because organic farming is a healthy way of growing food, and also ensures financial stability for farmers.