Sust anti-VC teachers to observe work abstention Sunday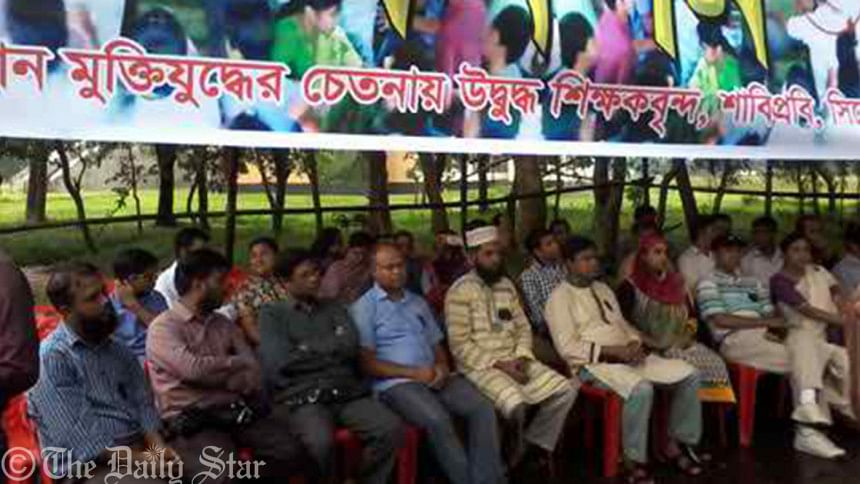 Teachers demanding removal of Sylhet Shahjalal University of Science and Technology (Sust) vice-chancellor will observe a day-long abstention from work on Sunday.
The protesting teachers announced it at a token hunger strike programme at the university today, our Moulvibazar correspondent reports quoting the teachers.  
Also READ: Sust teachers abstain from classes
The teachers observed the three-hour token hunger strike from 9:00am demanding removal of the VC Aminul Haque Bhuiyan.
"We have only one demand, which is the removal of the VC, and we will not leave the field until our demand is met," Professor Sayed Shamsul Alam, a protesting teacher, told the correspondent.
"We hope that the government will remove the VC by today," he said. Otherwise we will go for a tougher movement, he added.
He also demanded a judicial inquiry into the August 30 incident.
READ more: Zafar Iqbal shell-shocked
On Sunday, alleged Bangladesh Chhatra League activists swooped on teachers during the latter's pre-scheduled demonstration to stop the VC from entering his office.
Meanwhile, a forum of administrative heads of the university observed a work abstention from 9:00am to 11:00am protesting the attack on teachers, ANM Jainal Abedin, convener of the forum, said.
They also demanded proper investigation into the incident and punishment for the responsible persons.