Demand for Road Safety Measures
Students' agitation on, attack on fellows protested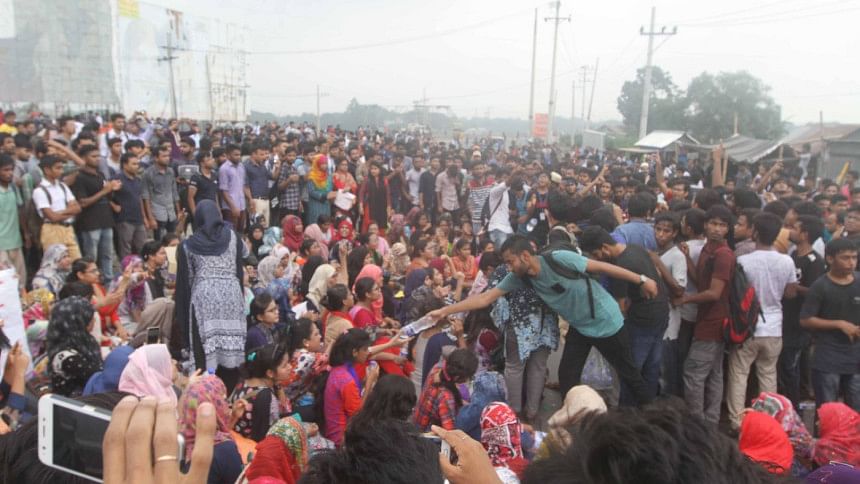 Students took to the streets in different areas of Mymensingh and Tangail yesterday as part of their countrywide movement demanding adequate steps for safety on roads.
They protested attack on their fellows by police and Chhatra League activists in different areas including capital Dhaka on Saturday.
Our Tangail Correspondent reports: Students put blockade on Dhaka-Tangail highway at Ashekpur bypass near Tangail town from 12:00am to 1:30pm yesterday protesting attack on students agitating for adequate steps for safety on roads.
Hundreds of students from different schools and colleges and Mawlana Bhasani Science and Technology University demonstrated in Old Bus Stand area of the town and started controlling traffic there.
The agitating students later went to the highway with a procession and put a barricade there, stopping vehicular movements.
Saidur Rahman, officer-in-charge of Tangail Model Police Station, said, "After staying there peacefully on the highway for some time, the students returned to their institutions." 
Our Mymensingh correspondent reports: Transport workers obstructed vehicles at Kanchijuly near Town Hall intersection in the town in the morning.
As students tried to prevent them at noon, the transport workers chased them.
When larger number of students from Town Hall intersection went to the spot, the transport workers left the scene.
On information, police rushed to the spot and brought the situation under control, said Md Al Amin, additional superintendent of police (Sadar Circle), Mymensingh. 
Admitting the incident of chase and counter chase, Md Mahbubur Rahman, secretary of Mymensingh Zila Motor Malik Samity, said, "Aafter hearing the matter, I along with other leaders rushed to the spot and warned the transport workers not to engage in untoward incident with the students."
Expressing solidarity with the students' demands and protesting attack on the students in Dhaka, the students of Bangladesh Agricultural University (BAU) brought out a procession on the campus yesterday.
Suspending their classes, some 200 students from different departments joined the procession around 10:30am.
After parading the campus they gathered at Muktamancha of the university and held a rally there.
The students joined their classes around 12:00 noon, said Prof Dr Atiqur Rahman Khokon, proctor of the university.